[Let's Talk] Pikachu or Eevee?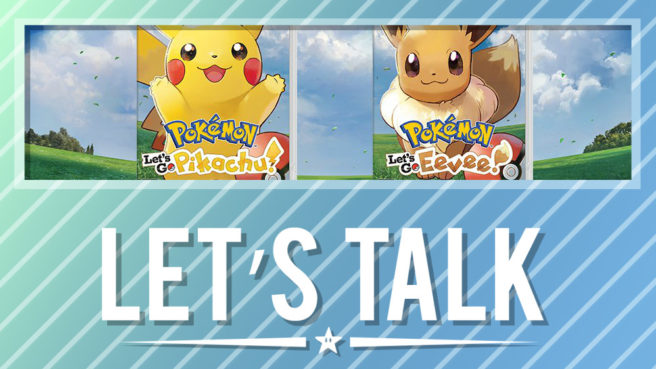 With every major Pokemon game, there is usually a decision involved. Nintendo often publishes two versions which fans often choose between. That doesn't go for everyone as some folks will pick up both, but players generally settle for one version.
Pokemon: Let's Go is this year's entry, and it's significant since it'll be appearing on Switch. But which version will you be going for: Pikachu or Eevee? Perhaps you're in that small group interested in both versions? Or maybe you're buying neither! Let us know in the comments below.
Highlights from last week's topic: What are you playing? – July 2018
theFooFighter
Trying to finish ys before octopath releases. Also crash 2 and 3 on and off and I just beat Wolfenstein a few days ago
DonSerrot
I've been playing A LOT of Fortnite for the past few weeks now. I never quite understood the hype about it before but now I can see the appeal. It has a solid fun art style and some crazy behind the scenes stuff going on with the buildup to the next season. I've also been hanging out on SquatingDog's Twitch stream. If you've ever seen the weekly challenge cheat sheets on Reddit he's the guy who makes them and he's a super positive guy who enjoys playing games with his viewers.
Micbro • 4 days ago
Reopened Splatoon 2 today after forcing myself to take a 5 week break to fix my left joycon's analog stick (and wait for a new board since that broke as well). Feels so good to be back at it.
Going through more Fortnite with my bro and cousin on their Xbox's and learning a new playing style in Rocket League to finally get better at aerial shots.
Lastly I played a bit of Arena of Valor. Some background, I really don't like any type of action game which promotes slow movement and especially attack speed, which MOBAs thrive on. So for the first time I played a tank character and really disliked the experience. For the second round a few days later I played as a double pistol character (forgot her name atm) and her playstyle was so much more enjoyable to me and clicked instantly. I still did really bad overall in the beta but thanks to my experience with her I am a lot more excited to download Arena of Valor when it comes out later this year.
JAPrice
I'm currently playing South Park: The Fractured But Whole on Switch. I haven't been into SP in years but the game is fun and hilarious, a pleasant surprise.
I don't know how to feel about Octopath. I'm an oldschool gamer who to this day prefers 2D games to 3D games (but not to an extreme extent) but the sprites of Octopath don't ignite my imagination the way games like FFVI and the like once did. Could be I'm old and jaded. But the game does make a solid presentation with beautiful music and lighting. I played both demos and found myself feeling a little bored with the gameplay, to be honest, although I did enjoy Primrose and the hunter girl's stories.
I still want it, but I'm not in that big of a rush to get it. Ys VIII (which I played before on Vita but decided to get for Switch for the larger screen…s) interests me more. In fact, so does Shining Resonance.
TruExtent
I've been all over the place on my retro stuff attempting to finish games but ultimately not… I've been going through 1080 Snowboarding N64, Rippin' Riders Dreamcast, Sonic Heroes GC, Kirby's Dreamland 3 Wii U VC, Splinter Cell Blacklist Wii U… and now I'm starting to fall back on endlessly playing Hyrule Warriors Wii U again. I'm starting to want the Switch version more and more…
Leave a Reply