[Let's Talk] Pokemon Presents – February 2021 reactions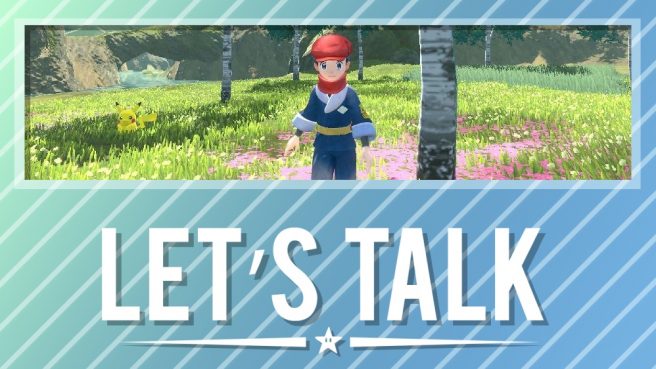 Pokemon celebrated its 25th anniversary with a special presentation yesterday. Pokemon Presents featured three main titles, all of which are exclusively for Switch: New Pokemon Snap, Pokemon Brilliant Diamond/Shining Pearl, and Pokemon Legends: Arceus.
New Pokemon Snap showed off its latest trailer and another look at the game. Remakes of Pokemon Diamond/Pearl have long been rumored, and now they're official. Finally, Game Freak showed off what it's working on with Pokemon Legends: Arceus, which is more of an open-world action RPG approach to the series. We've got a recap of everything shown here.
How'd you ultimately feel about the new Pokemon Presents. Opinions on the art style for Pokemon Brilliant Diamond/Shining Pearl seem to be mixed, so how are you feeling about the look? And what do you make of Pokemon Legends: Arceus so far? Let us know in the comments below.
Highlights from last week's topic: February 2021 Nintendo Direct reactions
andremiguens
There were plenty of announcements that fit the promise of filling in the first half of the year, making it so each month there's at least one First Party title or a AAA game.
Then there's Pyra and Mythra in Smash! XC2 being my favorite game on the Switch made me super happy to see them represented 😀
And Nintendo went beyond what was promised and confirmed Zelda Skyward Sword for July and No More Heroes 3 for August. 2 games I'd love to play as well.
And finally they revealed Splatoon 3 for 2022. A surprised for sure, but a welcomed one.
My personal highlight: Project Triangle Strategy. I love tactical RPGs, with my first and favorite being FF Tactics Advance. I've been saying for years that S-E should release a collection of the series. Now we get this game and I can't wait 😀
Will there be people who wanted a first party AAA every month + an older series being revived with a high budget every other month? Sure. But that says more about them than it does about Nintendo's output.
Andrew
The Direct wasn't great, but it was solid, and gave me a few new games to grab, as well as hope for a new Direct later on this year.
Not a lot I was personally into, but I might grab Mario Golf, MH: Rise, and NMH3 if I'm up for trying something new. Triangle Strategy gave me Luminous Arc vibes, so I'll be checking out the demo and writing up some notes for when they want feedback. Fall Out Guys seems like it was made for he Switch. Splatoon 3 is something I'm hyped for, but I can only be so excited until we get more details. It made a good first impression.
As for what I'm grabbing from it, the Famicom Detective Games are right up my alley, even if they're pricey. I'm very curious about obscure Nintendo titles like them, and I can barely find decent visual novels that aren't dating sims. I've never played Skyward Sword, so that's got my interest. Miitopia was one of the bigger surprises, and I'm thinking about finishing up my current run on my 3DS version, and starting again on Switch. I'm hoping that Miitopia's return means a return of the Miis (Mario Golf also had this) as well as more 3DS IP's coming to Switch sometime, even if they're smaller digital only titles.
link2metroid
The Direct was OK, definitely not great. Didn't care for Skyward Sword, it's the worst Zelda. Legend of Mana remaster is good. Mario Golf was the best announcement by far. But look at the Direct overall, it was full of ports or remasters, and DLC.
No BOTW2, no Metroid Prime 4, no Bayonetta 3, no SMTV, no AAA new game announcements. They announce Splatoon 3 and Project Triangle Strategy(neither of which interest me), they're at least a year away, but they couldn't throw us some crumbs on current projects?
Anthony Chowanec
I got excited and thought xenoblade 2 was getting another game. The prices for xenoblade 2 have gone crazy since the announcement.
As for games I'm really excited for maroo golf. I always liked golf more than tennis with the accepting of the game boy color games. Skyward sword will be fun to play again. Will probably end up getting splatter 3 as well. I'm actually pretty good at those. The saga game they showed caught my eye as well. Not mentioned but Ys IX will be a day one purchase as well.
Locky Mavo
After over a year of waiting for it, it wasn't exactly the bombshell direct I was hoping for, but there were some good surprises.
Though I had fingers crossed for KOS-MOS as a Nampo/Monolith rep, Pyra/Mythra in Smash is awesome.
Ninja Gaiden collection was good, though not the better games.
I'm keen to see what the Hyrule Warriors dlc is like. As for Skyward Sword, meh I've beaten it already, so I probably won't get it, nor would I get Wind Waker or Twilight Princess again, as they're rumoured to be ported.
I'm actually looking forward to seeing more about Mario Golf.
And MH Rise just keeps looking better every time the show it.
Finally a date for No More Heroes 3! I'm really looking forward to it.
Surprisingly a few Square Enix games there, though I would have been a little more interested if it were Valkyrie Profile. But that Triangle Strategy game looks great, still need to try the demo.
And of course, Splatoon 3. Who saw that coming? But can you believe since 2014 to next year, we will have had 3 Splatoon games and only one new Mario Kart (not including deluxe, Tour and Live of course).
Obviously there's the disappointment of no BotW sequel, Metroid / Prime 4, Bayonetta 3 and a few franchise's milestone anniversary celebrations. But I'm sure they'll be talked about through the year. I mean Mario didn't get a direct until August last year and rolled into 2021.
Leave a Reply