[Let's Talk] September 2021 Nintendo Direct reactions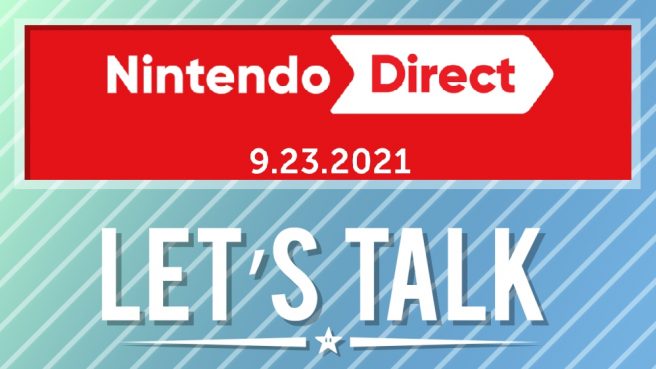 Nintendo dropped a doozy of a Nintendo Direct for September 2021 on us this week, and now we want to hear your reaction. We saw new announcements, updates on previously-known titles, shadowdrops, and more.
From Nintendo, highlights include the reveal of Kirby and the Forgotten Land, the first look at Bayonetta 3, a new Splatoon 3 trailer, and N64 / SEGA Genesis games for Nintendo Switch Online. A ton of third-party games were on hand as well, including the Sunbreak expansion for Monster Hunter Rise, Voice of Cards: The Isle Dragon Roars, Chocobo GP, Dying Light 2 – Cloud Version, and a port of Star Wars: Knights of the Old Republic. Castlevania Advance Collection and Actraiser Renaissance acted as notable shadowdrops.
This isn't everything as there was quite a lot in the Nintendo Direct. You can see the full recap here.
Now that we've all had a few days to digest the September 2021 Nintendo Direct, how'd you feel about the presentation and what's your reaction? Which games personally stood out to you? Let us know in the comments below.
Highlights from last week's topic: Xenoblade Chronicles 3 hopes and dreams
David Saunders
More of the same please……with a sprinkling of Mechs!
Xenoblade 2 is my favourite game on Switch. I love the characters, battle system & story so I'm pretty much hoping for the same with 3.
I'd love a world the size of the first game (or bigger) but with traversal via Mechs like in X.
It would also be neat if it links with Xenoblade Chronicles X in terms of story/universe and finally sorts out that disappointing ending.
Let's not forget it needs an epic soundtrack like 1 & 2.
So, essentially im hoping for Xenoblade Chronicles: The Greatest Hits.
chizwoz
I dunno if there's any more stories to tell in the XB1/XB2 universe. Or metaverse, or whatever it is. Unless they actually go into those same worlds again and tell another part of the same stories (e.g maybe Dunban's adventure a year before XC1).
So either something completely new or just a sequel to XCX would do the trick.
R.Z.
I'd love to see something closer to X.
Having a more open, more sci-fi world, Tanaka returning as character designer …
Basically I'd just love to see X with a tighter writing and a better structure.
If they were to stick to the style of mainline entries, however I think I'd like to see them actually lean more towards fantasy with fewer sci-fi touches. Also a tighter character design, from one person (I'd prefer Tanaka but whatever …) instead of a dozen guests.
Leave a Reply