[Let's Talk] The calm before the Switch storm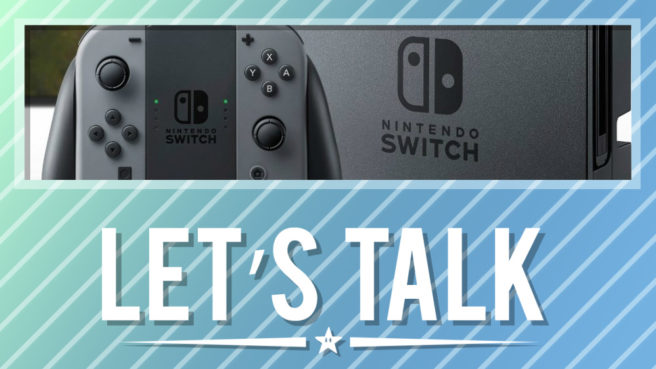 Believe it or not, it was almost two years ago when Satoru Iwata first mentioned NX, Nintendo's next gaming system known as Switch. Now the moment we've all been waiting for is almost here. Towards the end of next week, Nintendo will finally tell us everything we need to know about Switch. What's the final release date? How much will it cost? What are the launch games, and other titles in the production? These important questions will be answered, among others.
Many people assumed that Nintendo would be hosting some kind of event to unveil Switch last year. Yet instead of that, we were teased with a brief announcement trailer. Since we're about two months away from launch, so Nintendo really needs to fill us in on pertinent details.
The Nintendo Switch Presentation 2017 is what we're all looking forward to. But even after that, Treehouse Live is returning to give us extensive look at new games. Hands-on events will also begin around the world. It's almost like E3 in January! Actually, it might be crazier than E3. I know that on my end, there will be a lot more to cover.
So for this week's Let's Talk, this is our general pre-Switch reveal discussion thread. We'll have another one of these next week. Do you have any final predictions? Any last-minute hopes and dreams for the week ahead? Just want to share your excitement overall? You can do all of that in the comments below!
Highlights from last week's topic: What do you want to see at Super Nintendo World?
Logan Wayman
Here's my ideas:
-Luigi's Haunted Mansion (Or if we're lucky enough, an Eternal Darkness Haunted House)
-A Splatoon Ink-park (Like a water park)
-A Kid Icarus roller coaster where the carts are basically wings on the riders' backs.
-Metroid Laser Tag
-A Star Fox dogfight simulator attraction
-A Pokémon Safari
-A Nintendo Arcade, filled with your classic arcade, NES, SNES, and N64 games.
-A Murasame Castle theater
-A Nopon village
-A life-size Mario Party (pre-MP9) attraction
-A Nintendo Switch congregation spot for local play with other people
Broken_Dust
Would be cool if the attractions are a collaboration of different games from Nintendo and movies from Universal. For example Luigi visits Psycho mansion (Bates Motel)!
Leave a Reply