[Let's Talk] What are you buying for Switch in May?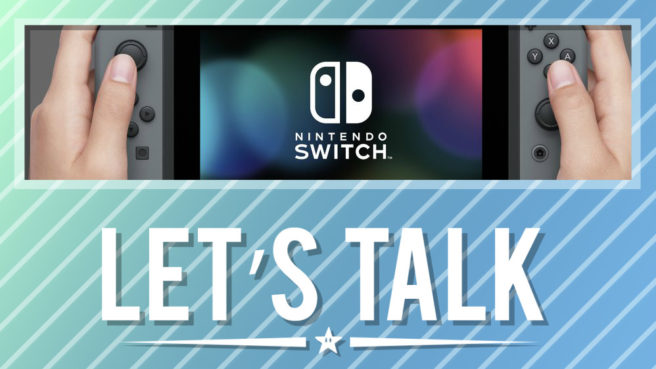 The first few months of 2018 have been a bit slow for Switch, but things are picking up in a big way next month. Nintendo has a couple of re-releases planned for May, and third-parties have a ton of titles on the way as well.
Here are some of the highlights:
– Donkey Kong Country: Tropical Freeze
– Hyrule Warriors: Definitive Edition
– Dark Souls: Remastered
– Light Nightmares: Complete Edition
– Street Fighter 30th Anniversary Collection
– One Piece: Pirate Warriors Deluxe Edition
– Battle Chasers: Nightwar
– Shantae: Half-Genie Hero – Ultimate Edition
– Tennis World Tour
– Runner3
– Lumines Remastered
– Moonlighter
– Super Chariot
That's a lot, and isn't quite everything. You know that there will be some surprise releases, especially on the eShop front.
So what are you looking forward to on Switch in May? Let us know in the comments below.
Highlights from last week's topic: Favorite 3DS games
Joshua Ayala Ortiz
Kid Icarus: Uprising. Fun Gameplay, Cool weapon system and great writing! The story was both funny and interesting. And the fact it changed in the same level depending on what weapon you were using?! Over all I always recommend it to first time 3DS owners.
Morian
Fire Emblem Awakening holds a special place in my heart.
FE Fates Conquest is a lot of fun too. 3DS was always my Fire Emblem machine.
My third favorite is DKC Returns 3D. I know it's a port but portability + L and R buttons + 3D it's a huge win in my book.
Stuart
My favorite 3DS game? Man that is hard to answer. I feel A Link Between Worlds and Fire Emblem Fates could fit that category, but it is hard…I could easily type a bunch of games as my "favorite".
My most played on the other hand is Rune Factory 4. Believe it or not I am closing the 300 hours on that one. That would be another good candidate as "favorite"…
DonSerrot
I'd have to say my absolute favorite 3DS game was Monster Hunter 4U. A friend of mine gave me a copy of 3U and that one didn't really stick with me. I liked the idea of it but I felt overwhelmed by everything it threw at me and it lost me shortly after the painful underwater combat hit. 4U was me giving the series a second chance and it quickly became my most played game on the handheld. Trading swimming for jumping was the best move they could have made. I also really enjoyed Generations, making the lack of Monster Hunter on the Switch (in English) that much more painful. Hopefully now that World is out of the way they can show us Switch fans some love.
After that my most played games fall into the likes of Animal Crossing: New Leaf and the various Pokemon titles that have graced the 3DS. I also put a lot of work into Smash for 3DS and I'll usually use that as my controller when playing with friends and family.
Captain Heropon
Bravely Default and Kirby Planet Robobot are criminally underrated games. Easily my two favorites. Kid Icarus Uprising pretty good too
Leave a Reply