[Let's Talk] What are you playing? – December 2020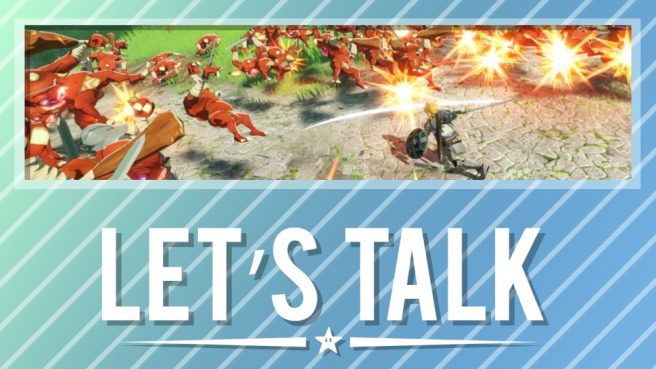 A new month rolled right on in this week. Now that we're in December, we want to know what you've been playing.
Have you been playing through Hyrule Warriors: Age of Calamity? What about recent third-party games like Immortals Fenyx Rising, Taiko no Tatsujin: Rhythmic Adventure Pack, or Empire of Sin? No matter the case, let us know in the comments below.
Highlights from last week's topic: Nintendo at The Game Awards 2020 – hopes and dreams
Andrew
This award show has as much legitimacy as all other mainstream ones do: none. The recognition is nice, and I think Nintendo deserves it for a few releases. Its been quiet, but there should at least be nominations for Animal Crossing and Paper Mario The Origami King. Age of Calamity certainly deserves some attention, I'm just not sure if it launched too soon. Hoping for some less expected mentions like Mystery Dungeon, but not very much. Also, there may be some sort of recognition towards Pokemon for the DLC, or Cafe in a phone game section, but I'm not banking on that either.
For announcements… like I said, it's been very quiet. A Smash DLC announcement seems reasonable, and possibly a bit more on Bayonetta. Nintendo's been tight-lipped on any other in-house/self-published IP's, so I'm thoroughly clueless as to what else could come out. A BotW 2 trailer would be the most fitting. A more in depth Bayonetta 3 trailer would be great, and amusing since this is where it was first announced.
My personal pipe dream announcement is Pikmin 4, but I'll take any off-the-wall stuff in general
Locky Mavo
I hope and dream for something Metroid, as I always do when an opportunity arises.
But I do believe we may finally see something on Bayonetta 3, or at least Platinum's "secret 5th surprise" in their Platinum 4 line up they had. The last thing they showed was that April Fools joke.
R.Z.
Regarding the awards themselves, I don't expect Nintendo to have a big presence. It's hard to believe that Animal Crossing will get Game of the Year in this show, even though it would be cool.
As for what Nintendo could show … there's a ton of options actually, and we're long overdue for some info on major games and DLC coming next year.
It could be a Smash character, because it's really been a while since we got an announcement, it could be some BotW2 footage because we're long overdue for that as well, it could be a trailer for Bayonetta 3 or Metroid Prime 4 because it's been forever since we had info on these games, it could be the leaked Ghosts&Goblins game from Capcom because it's supposedly scheduled for early-ish next year and there are not many other events to announce it or maybe some other new third party stuff. All of that is pretty likely, but it will be a couple of announcements at most.
So what do I hope for/dream of personally ? Something that I consider bigger than all of the above, the announcement of a new big first party project.
Like Super Mario Odyssey 2 in the context of the 35th anniversary. Or Monolith Soft's next game. Or something else, as long as it suits my tastes. However that is much less likely.
Leave a Reply