[Let's Talk] What are you playing? – February 2019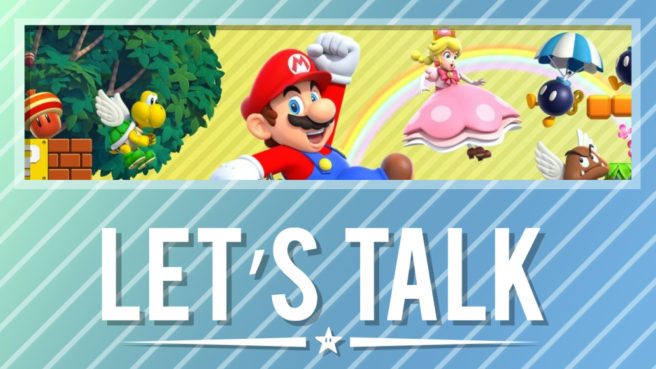 A new month rolled right on in yesterday. Now that we're in February, we want to know what you've been playing.
Have you started up something entirely new for the month? Trying out the Switch port of New Super Mario Bros. U? No matter the case, let us know in the comments below.
Highlights from last week's topic: Most anticipated games of 2019
Micbro
2019's Nintendo games will be a discovery experience for me as I haven't finished a single game in any of the upcoming release's series.
Yoshi's Woolly World is currently my most anticipated nintendo game of 2019 as I really like the artstyle, the gameplay, the co-op, and the length is hopefully much much longer than Kirby Star Allies
Luigi's Mansion 3 does interest me, but I'm not super eager to get it as the game doesn't pull me in as much gameplay and story wise.
Animal Crossing's gameplay style has never directly interested me, but after seeing the simulation like aspects of New Leaf, I'm pretty interested to see what AC Switch is going to have in those aspects.
Pokemon 2019 interest me in the sense of what will carry over from Let's Go. Some of the mechanics in Let's Go draw to me more, but at the same time I want something to draw me into 2019 and other future Pokemon games. I don't know what it is yet but I can't wait to see how it turns out.
Out of heavily rumored games, I'm very excited for Metroid Prime Trilogy since it seems like my kind of Metroid games and in general seem like a ton of fun.
Third Party wise, I'm mostly interested in Marvel Ultimate Alliance 3 since I played the series a lot as a kid, a potential Spyro port since it seems like a fun 3D platformer, and Namco's offerings for the year.
Indie wise, I'm excited for Intl Create's Dragon Marked for Death which is finally coming out after 2 delays on Switch and in general getting moved to the Switch from 3DS (announced in 2012), Shovel Knight King of Cards & fighting game since all 3 of the campaigns were very enjoyable, Untitled Goose Game, Rivals of Aether Switch / Definite Edition, A Hat in Time,
Duck Game, Killer Queen Black (beta tested it and it's so much fun), and ToeJam and Earl: Back in The Groove.
nemo37
Based on what we know my most anticipated games so far are Luigi's Mansion 3, Devil May Cry 5, Yoshi's Crafted World, and Anthem. I am also fairly excited about Pokemon but I personally need more concrete information on that one. It is still fairly early though in the year, so I will likely have more to look forward to as more announcements are made.
Kaydee Yewbirt
Of games actually confirmed for 2019, for me it's definitely Animal Crossing. I get so many hours of play out of AC it pretty much eventually ends up dwarfing any other game, since there's no other game I end up playing every day for half a year or so before I finally get bored because I did everything I wanted to. I'm very curious to see what will change, such as if they'll use any of the features of Pocket Camp. Like adding terrains. I have always wished I could have a mountain town, or desert town, or swamp town, with something other than plain old flat grass and three kinds of tree shape. Something to make more a bit more variety between each person's town. I know I'll love the game regardless, but after playing New Leaf until it's bone dry of anything new to experience, I'm really looking forward to the next version and seeing what new new twists they add, since there's always something.
King Orik
Although this year is a little uncertain, I know what I'm keen for this year.
Pokémon
Resident Evil 1,0 and 4
Terraria
Strangers Wrath
Fire Emblem: Three Houses
Anything Zelda related
Hope there's a Direct soon to clear up some release dates for these games.
Megitrev
I was disapointed to realize that maybe Bayonetta 3 and Metroid Prime are probably not coming this year
But there are many interesting games still coming, the ones that i am looking forward are:
– Dragon's Dogma
– Daemon X Machina
– Marvel Ultimate Alliance 3
– Fire Emblem Three Houses
– Doom Eternal
– Luigi's Mansion
– Pokémon 2019
I will also keep an eye on Mortal Kombat, Resident Evil games and Saints Row, but probably not buy on launch (Mortal Kombat is because they always release a version with all the DLC after 1 year or less, but maybe i get hyped and buy…)
There also 6 titles from 2017 / 2018 that i still dont bought (there are more, but not a huge priority)
Leave a Reply