[Let's Talk] What do you want to see at Super Nintendo World?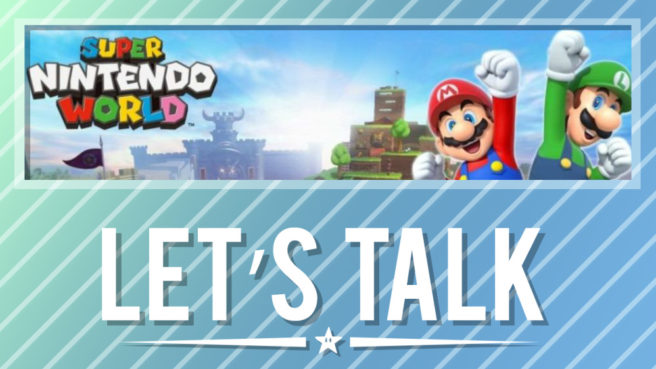 Nintendo started to give us a better idea about what it's planning for its partnership with Universal Studios a few weeks ago. Nintendo-themed areas are on the way to Universal Studios Japan, Universal Orlando Resort and Universal Studios Hollywood. It's all being branded as "Super Nintendo World".
Nintendo has said that these areas "will be expansive, immersive and interactive. They will be highly themed and authentic environments filled with multiple attractions, shops and restaurants." Nintendo also promises that visitors "will feel as if they are playing inside their favorite games – this time in real life."
It's a long ways off, but we still want to know: what do you want to see from Super Nintendo World? Do you have any ideas for attractions? Are there any characters/franchises you want to see above anything else? Let us know in the comments below!
Highlights from last week's topic: Super Mario Run launch thoughts
Jordan Fricks
I just finished the final special world level today that comes with getting all the special coins. I have to say… I was amazed by how addicted I became to this little game. Knowing what was at stake for Nintendo, I expected it to be good, but it was pretty much all I could think about throughout the past three days. It's surprisingly difficult to get those black coins! It had me swearing and my thumbs were in pain, but I really could not put it down. From Paper Mario to Pokemon and Final Fantasy, I have a huge backlog of games waiting for me right now, and yet, my brain craved this one for some reason. In a way, I'm glad it's over because I'm suppose to be studying for law school exams, but boy was it fun while it lasted (I enjoyed it more than New Super Mario Bros 2). I think it was the perfect idea for an iphone game too. It's not as complex as traditional Mario games so as to replace them, but it differentiates itself and what it does, it does very well for $10. My one complaint would be that the final boss is a bit streamlined compared to previous games, but it didn't detract in a big way. I really hope the added characters find their way to the inevitable 2.5D Super Mario Bros. for Switch.
Jay Bern
I thought it was the cheap cash-in a lot of people might have taken it for initially, but I started getting really into it the more I played, especially Toad Rally. The price for the full game is, however, way too high for what it is, and unless they plan to add more content overtime, I think it needs to go down as soon as possible.
And there's the Facebook link glitch. Nintendo, please get that sorted out.
joe_1up
My Mario Run ID: 8109 1927 5511
I hate mobile games but I love Mario Run.
I understand why a lot of mobile gamers are complaining about it – because it's not like other mobile games.
Also, I did this Family Share workaround and it worked perfectly: http://nintendoeverything.com/how-to-use-something-similar-to-family-sharing-with-super-mario-run/
Leave a Reply