[Let's Talk] Your 2017 Game of the Year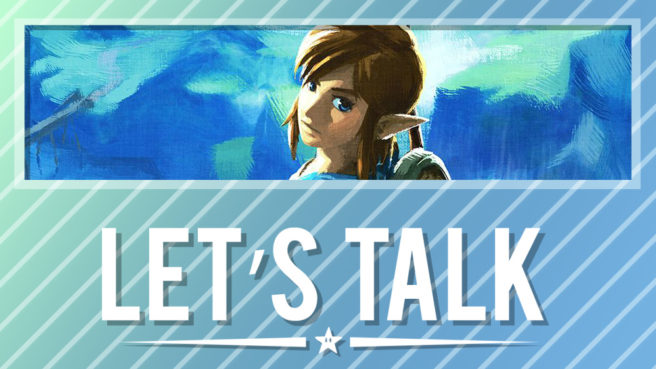 Can you believe that 2017 is almost over? For me personally, it doesn't feel like it's been that long since the Nintendo Switch Presentation in January. But hey, that was almost a year ago!
This has been an incredible year for gaming, and Nintendo no doubt contributed to that. Switch made a huge splash, and a bunch of great games launched this year. From Nintendo on Switch alone we saw Zelda: Breath of the Wild, Super Mario Odyssey, Xenoblade Chronicles 2, Splatoon 2, and ARMS. There were other heavy hitters as well like Mario + Rabbids Kingdom Battle and Fire Emblem Warriors. The Elder Scrolls V: Skyrim, Doom, and many others helped round out the year. And don't get us started on indie hits like Golf Story and SteamWorld Dig 2.
We also can't forget about the 3DS. Sure, you could make a case that the system is winding down, but some great games came out there as well. Dragon Quest VIII, Monster Hunter Stories, Pokemon Ultra Sun/Ultra Moon, were among the titles to have graced the dedicated portable this year.
With the year winding down we want to know what your Game of the Year is. Is it Zelda? Mario? Something else? Let us know in the comments below.
Highlights from last week's topic: The Game Awards 2017 reactions
Locky Mavo
I thought this year's VGA was really good, much better compared to years past, though a lot of it is thanks to how good the games were this year, which it has been an incredible year, no matter what platform you play. So some pretty tough competition for each category, but I do think all the winners were well deserved (though admittedly there were some I hoped others would win instead).
Personally I was backing Mario Odyssey to win GOTY, but BotW is an incredibly good game and well deserving of GOTY. A lot of great World Premier, the Bayonetta trilogy was my personal favorite reveal and with tat announment leaves one WiiU game I'd like and that I feel needs to be ported for a 2nd lease in life, Tokyo Mirage Sessions.
I was a bit disappointed with no Switch version for Soul Calibur 6 as the rumours suggested, but we'll see how Nintendo goes at the Bamco conference this week, a big Nintendo presence was reported to be there, hoping for some Pokken news among others (or could they be porting or making a new Smash Bros? It could happen).
As for Death Stranding, that was a huge "WTAF is going on?", for me. I mean it looks… "interesting", to say the least, but from what I saw, it doesn't really feel like it's something up my alley, though some actual gameplay would have been nice.
Sony was surprising though, a lot of nominations (and a lot of VR talk, they're really trying to this thing), but no big wins. The couple of jabs about micro-transactions was pretty funny. And the orchestral music was fantastic. And some big wins from Nintendo always a cool thing. Yes, I quite enjoyed this years VGA and I do look forward to next years and hopefully it'll be even better.
Justin
There were tears. I absolute love it when Nintendo surprises me, that is my favorite thing about them.
It was awesome that two Nintendo games where in the top and I loved that Zelda won because it is just a joy to play and not just for certain types of players.
I still have no interest in Death Standing. There cutscenes are strangely interesting but I can't judge a game on them. I'm not a fan of the creator even though I see how much if a creative artist he is. I will likely never play the game and what was shown was more confusing than anything.
R.Z.
I didn't follow the show because I was at work, but I was nicely surprised to learn of such a cool announcement as the Bayonetta Ports + Bayonetta 3.
I thought the Zelda DLC and some minor thing would be all they show.
I think I was disappointed with some of the other revealed games not appearing on Nintendo consoles, like the long rumored Soul Calibur I-don't-know-how-many-eth and the DMC collection (not sure that one was part of the show though).
I also expected Nintendo to get a lot of awards because they were very clearly high above the competition this year, and they did. So that's cool.
Leave a Reply