[Let's Talk] Your impressions of Switch and Zelda: Breath of the Wild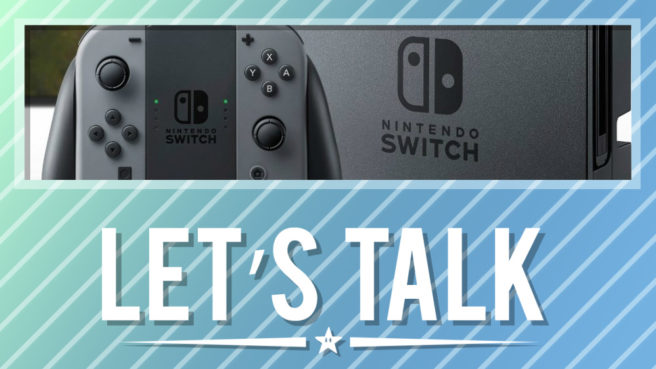 It's almost tough to believe that Switch and The Legend of Zelda: Breath of the Wild are finally here. With Switch, we've been waiting on it ever since late Nintendo president Satoru Iwata teased it as NX two years ago. The wait for Zelda has been even longer as it was first mentioned in a January 2013 Nintendo Direct.
It may only be around two days, but we'd love to hear about what everyone thinks of Switch and Zelda: Breath of the Wild. Have they lived up to your expectations? Are they disappointing you in any way? Let us know in the comments below.
Highlights from last week's topic: Will you play Switch more as a console or a portable?
drinKNIRD
Portable for obvious reason: bed. When I get tired of loitering one spot, I'll be using it on console. Hopefully, half and a half in between but no doubt portable will win out for me.
Reggie
For me personally, I'm going to be using it more as a portable, and by portable I mean I'll sit anywhere in the house to play it. I don't really have the space to play it as a console, and if I did, it means I would have to share it with my brother who gets hyper-aggressive when frustrated. So yeah, rocking the portability.
Addy
As a console. I'm not going to risk taking or lugging around a $400 CDN item with additional accessories.
Jacob Groves
Console for me. Portable is when I am on bed before sleep or go hospital if my health issue or if I am lonely outside yeah play it.
Console is for me. I am console gamer not portable or PC or mobile. 😛
Indielink
Between the 4 people in my house, we will have 3 Switch and 2 TVs. We'll see how the battle for the big screen plays out. No matter the result I will be okay.
Anonymous1234567
Console at home. But when waiting for appointments, which are always nerve wracking for me, I'll be glad of the distraction.
Eileen the Pizza Queen
Definitely as a console. To be honest, I really don't play games when I'm out of the house, not even 3DS games. So if I'm going to be at home anyway, being a weird loner, I might as well enjoy the full HD experience, right?
Thomas_NE
Upgrading my TV to a beamer soon, so I'll be playing that 900p Zelda docked with surround sound on a giant wall. Can't wait. That being said, once a month I do a 2 hour train trip to see my family, I'll be bringing the Switch along in the future!
DeltaPeng
I mainly game at home, at which point I have a 36-38″ TV and it makes more sense to play on the big screen. I'll enjoy the rarer times when I need it as a portable as well.
Particularly looking forward to playing games that were originally handheld exclusive, on the big screen!
Lord Drieg
Much like the author, I find myself too busy or occupied to spend long times in front of my TV so I'll use the Switch largely as a portable console. I do want to spend a little time with it playing on the big screen, but I know I'll use it largely as a hand-held.
skilarbabcock
Recently I got a part time job, and work Thursday, Friday, and Saturday. And I am still in high school, so those day's I probably won't be able to play on the TV, so I'll be using the handheld part. However, the rest of the time, I will probably do half and half. Depends on if I want to kick back in relax in bed, or sit and play.
Ry L
Console mostly, but I'm going on a business trip less than a week after launch so I'm excited to try it as a portable. I guess I'll need to use it portable whenever the wife wants to use the TV as well.
Leave a Reply