[Let's Talk] Zelda: Breath of the Wild sequel hopes and dreams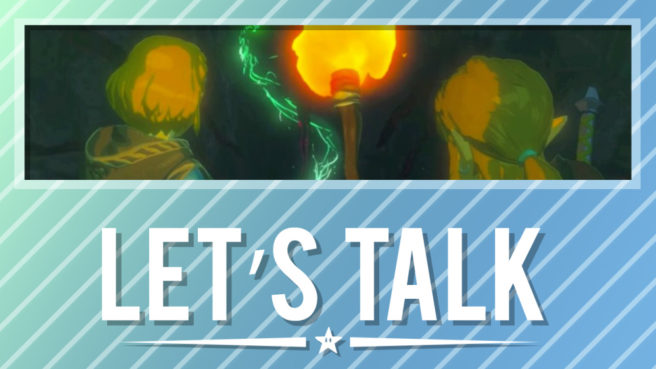 Just when some had thought that Nintendo's E3 2019 Direct could be ending with the announcement of Banjo-Kazooie in Smash Bros. Ultimate, fans were treated to one more surprise. We were given a first look look at Zelda: Breath of the Wild 2 with a minute-long trailer. Although gameplay wasn't shown, Nintendo left plenty of hints and sequences that will leave fans speculating about what's to come for months on end.
Since everyone has had a couple of weeks to sit on the news, we wanted to hold our first Let's Talk discussion about the game. What is everyone hoping to see in Zelda: Breath of the Wild 2? What changes or improvements would you want to see Nintendo implement? Do you have any theories about the story you'd like to share? Let us know in the comments below.
Highlights from last week's topic: E3 2019 Nintendo Direct reactions
Cyberrb25
Highlight: Astral Chain. I'm so hyped about that game, which is even more suprising as I had never played any Platinum games — beyond a demo for Bayo2, other one for W101 on Wii U and a bit of NieR: Automata on a friend's–, that I want to make a thread of Astral Chain appreciation tweets from now till the game launches. A shame I can't find more news or fanart so I can retweet those.
Unfazed about the Pokémongate. One of the things I like most is making new teams and having new Pokémon friends to finish the game. For me, it's not about difficulty or good stories (partly, but not as much), but the friends I make during the playthrough. Thus, not having all the Pokémon or not having this and that Pokémon isn't a bad thing for me — I never move them forward as I want to inmortalise that moment I go from a Pokémon game to the next one.
Also, there's a really good video on the general topic of Pokémon on New Frame Plus. I'd say to check it up to understand the gigantic chore they have on their hands.
I'd have liked to see a bit more about Level 5. I'm not one for many of the games, but I'm weirdly looking forward to Inazuma Eleven Ares, whenever they will launch that game. Also, if EA did make the FIFA Street mode into the Switch, it'd been a big lock for this year. But… Legacy mode 3 years in ¯\_(ツ)_/¯
Good conference in general, although I have to admit most 1st parties were already there so it didn't have as freaking much impact.
awng782
Outside of Animal Crossing's delay, I thought that was a great Direct.
DonSerrot
I figured they would delay Animal Crossing, so that wasn't much of a surprise. It doesn't feel like that long of a delay either. We knew it'd be late 2019 if they didn't delay it, so I see this as them adding an extra 3 or so months. That'll also let us start the game in Spring instead of Winter so there should be more interesting stuff for us to do. I should also be about ready for a new game when it finally does come out so I see this as an absolute win.
I was not expecting two Smash fighters, so that was a really nice surprise. I'm not really into Dragon Quest nor am I a fan of sword fighters, so The Hero wasn't that exciting for me. I'm happy he's there and I will be trying him out, but that's not exactly the flavor of fighter I go for. There was one fighter I wanted to see more than any other who I figured it'd be a long shot to see. I nearly burst into tears when I saw that Jiggy. Fans of Dragon Quest and Banjo-Kazooie truly won that day.
BotW2 came right out of nowhere and slapped me upside the back of the head. It then took a double smack at my face. At first I was thinking we'd be getting some post game DLC or something. I'm excited to see how this progresses. I don't expect us to get it any time soon,and after how BotW turned out I'm content to let them take their time.
Most everything else was great too. I'm probably going to pass on a lot of stuff though, at least until there's a big sale. And they managed to take the game I was most hyped for (Pokemon) and make it my least hyped in nearly an instant. I'm feeling unsure about it, but I think I'm still leaning towards getting it. A lot will depend on what Pokemon end up returning and what the final decision is about patching in the missing Pokemon.
Over all, even with the Pokemon blunder and the Animal Crossing delay I'd say Nintendo won E3 easily.
Koudai1979
I was initially disappointed in E3. Ubisoft's conference sucked, Bethesda's conference wasn't much better, and I didn't even watch EA's conference.
I think Microsoft's conference was where it started to turn around. They showed more of Cyberpunk 2077, revealed Keanu Reeves as a character in the game, showed more of Halo Infinite, and they gave us more info about Project Scarlett.
Then came Square Enix! I'm not even a fan of turn-based games, but I can see that Square Enix has made a lot of people happy.
That said, my favorite was Nintendo's conference! I've never played an Animal Crossing game, so I'm Okay with the delay, but I might still pick it up for my niece, who absolutely loves games like that and the Sims.
I really thought it was funny when Nintendo trolled us all with that "Banjo-Kazooie in Smash" trailer. I also loved the trailer for No More Heroes III, but why they didn't use a joke that referenced the ending of Kung Pow: Enter the Fist, I may never know. My favorite part, though, was when Nintendo hit us all with the totally unexpected trailer for Breath of the Wild 2! I don't know how many times I've watched that trailer as well as analysis and reversed versions of that trailer since then. I'm so excited for that game!
Leave a Reply