Mario Golf: Super Rush gets new details and screenshots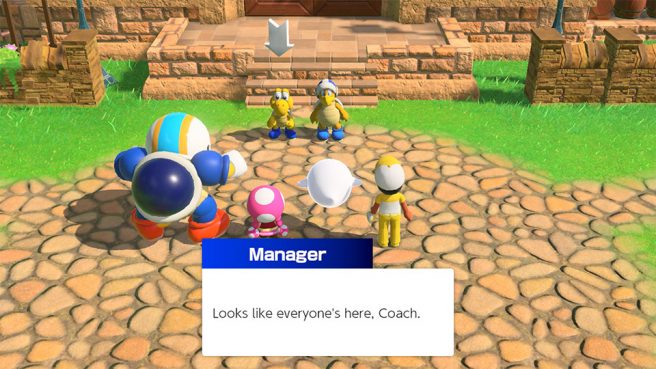 Nintendo has shared a new batch of details and screenshots for Mario Golf: Super Rush. Some of it was previously outlined but has been given a handy roundup, and on top of that, we have tidbits like all Special Shot/Dash names in English, course names, a few extra Golf Adventure details, and more.
Here's the full rundown:
Tee Off with Family and Friends in the Speediest Mario Golf Yet!

Join your favorite Mushroom Kingdom characters on the fairway for a super speedy round of golf in Mario Golf: Super Rush, only for Nintendo Switch.

Whether you're outpacing your opponents in Speed Golf, where players tee off together and race to finish the hole…

… or shooting for greatness in Golf Adventure, fun is par for the course!

You Call the Shots

Simple button controls make it easy for new players and seasoned pros alike to drive and putt with power. Just take aim, choose your shot strength and send the ball flying!

Get into the swing of things with motion controls by holding a Joy-Con controller like a golf club. The character matches your movements in-game, so you'll feel like you're playing golf for real!

Please note: motion controls cannot be used during Golf Adventure.

Curve your shot to avoid hazards and put spin on the ball to affect how it rolls after landing. Several features are on hand to help you conquer the course, including a shot gauge that adapts to the angle of the slope and a scan that lets you read the terrain.

Meet the Crew!

Choose from a colorful cast of Mushroom Kingdom characters, each boasting different strengths and equipped with their own unique special moves.

Mario
Special Shot: Super Star Strike
Special Dash: Moonsault Dash

Luigi
Special Shot: Ice Flower Freeze
Special Dash: Speed-Skate Dash

Peach
Special Shot: Spiral Stinger
Special Dash: Ribbon Dash

Toad
Special Shot: Super Toad Strike
Special Dash: Tumble Dash

Wario
Special Shot: Lightning Blast
Special Dash: Jet-Pack Dash

Yoshi
Special Shot: Eggschanger
Special Dash: Egg-Roll Dash

Bowser
Special Shot: Meteor Strike
Special Dash: Volcano Dash

Donkey Kong
Special Shot: Burly Strike
Special Dash: DK Dash

Daisy
Special Shot: Blossom Strike
Special Dash: Pinwheel Dash

Bowser Jr.
Special Shot: Smokeball
Special Dash: Bullet Bill Dash

Boo
Special Shot: Mischief Twister
Special Dash: Carousel Dash

Waluigi
Special Shot: Slim Stinger
Special Dash: Dance-Off Dash

King Bob-Omb
Special Shot: Bob-ombs Away
Special Dash: Kaboom Dash

Pauline
Special Shot: Songbird Stinger
Special Dash: Diva Dash

Chargin' Chuck
Special Shot: Scrimmage Stinger
Special Dash: End-Zone Dash

Rosalina
Special Shot: Shooting Star
Special Dash: Luma Dash

Mii Character
Special Shot: Power Stinger
Special Dash: Power Dash

Colorful Courses

From standard courses to courses with special hazards, every round of golf is different. Here are some of the lavish locations you'll be playing at.

– Bonny Greens: A classic course with rolling hills and lush scenery.
– Ridgerock Lake: A windy course with steep cliffs and a majestic lake.
– Balmy Dunes: A desert course with sandy dunes and rocky hills.
– Wildweather Woods: A woodsy course that's prone to extreme weather.

Hurry to the Hole!

Hit the fairway with up to three other players, both locally and online.

In Speed Golf, tee off in unison and race through the course to sink your ball first. Collect items to regain stamina and avoid the course's various hazards as you sprint to the ball. You'll need more than technique to come out ahead in this fast-paced mode – use special dashes and shots to give your opponents the run around and swing victory in your favor!

Want the classic experience?
In Standard Golf, every stroke counts and the lowest score wins.

Ready for Adventure!

Enroll your Mii character in golf training at a prestigious country club and go from rookie to pro in the single-player Golf Adventure. Interact with familiar Mushroom Kingdom characters as you learn how to play and take on a variety of challenges.

Stay ahead of the game by using your tournament winnings to buy new clubs and outfits. As you progress, you'll gain experience to level up your character. Spend the points you've earned to upgrade different stats, such as power and running speed, and train your Mii character the way you want!

Head to one of the multiplayer modes to take on other players with the Mii character you've trained.

Drive Into Battle

Nothing is out of bounds in Battle Golf – a special variation of Speed Golf with nine holes in play at the same time. The first player to score three holes claims the victory!
Mario Golf: Super Rush launches for Switch on June 25.
Leave a Reply