Mario Golf: Super Rush now has new Koopa Troopa colors for Ranked Match reward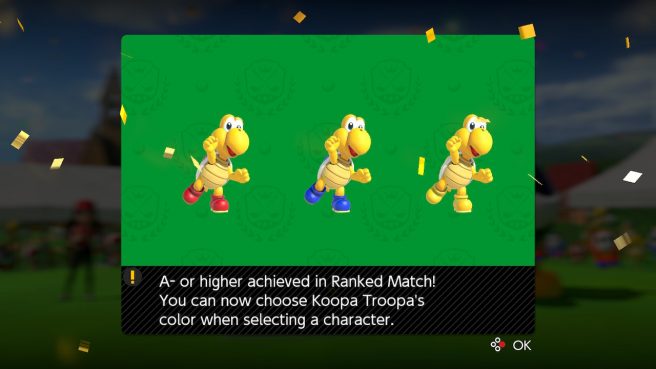 Nintendo and Camelot have reset the Ranked Match feature for Mario Golf: Super Rush to kick off November, and players can now claim new colors for Koopa Troopa as a reward. The latest options include red, blue, and yellow.
Mario Golf: Super Rush has its Ranked Match reset when a new month starts, offering players a chance to earn a reward. The new Koopa Troopa colors can be claimed by reaching the rank of A- before the end of the month – which can be easily done by playing a few matches. Once unlocked, head on over to the select screen in Mario Golf: Super Rush, hover over Koopa Troopa, and continue pressing the "L" button to pick the color of your choice.
We've seen a couple of Ranked Match rewards for Mario Golf: Super Rush thus far. First up was the Boo visor in September. Then last month, players could earn new colors for Toad. Keep in mind that these rewards are no longer available. However, it's possible that Nintendo will bring them back at a later date.
Mario Golf: Super Rush is out now on Switch. For more information about the game, visit the official site here.
Thanks to Cameron for the tip.
Leave a Reply