Mario Kart 8 Deluxe gets new Custom Items feature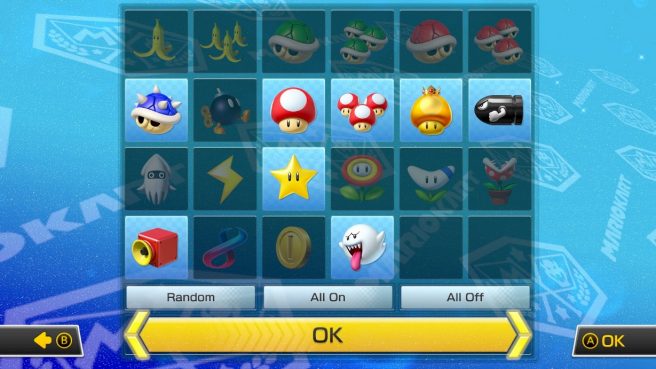 Starting today, Mario Kart 8 Deluxe players can access a brand new Custom Items feature. This has been made available as part of the just-released version 2.2.0 update.
With the feature, it's now possible to choose which items appear in offline VS Races and certain online modes. You can have everything on, off, or only certain things on. If you're interested in racing without the Blue Shell but keeping all other items for instance, that's now something you can do. Players can even allocate specific items to each team in Team Races and Battles.
While Mario Kart 8 Deluxe received its third round of the Booster Course Pass DLC today, keep in mind that Custom Items can be accessed by all players. Simply be sure to update your game to version 2.0.0.
If you've been playing the title recently, version 2.0.0 should eventually be downloaded automatically on your system. However, you can force it automatically by hovering over the game icon on the home menu, pressing the plus button on the controller, going to the "Software Update" tab, and selecting "Via the Internet".
Let us know what you think about the Custom Items feature for Mario Kart 8 Deluxe in the comments.
Visit the official Mario Kart 8 Deluxe website here for more information about the game.
Leave a Reply