Mario Kart Arcade GP VR announced for Bandai Namco's virtual reality arcade, played with HTC Vive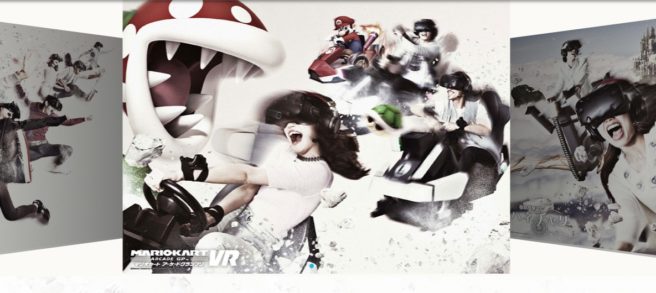 Bandai Namco has announced a new arcade featuring virtual reality gaming. It's planned to open in Tokyo next month. Bandai Namco will be opening VR Zone arcades overseas as well starting with in London this summer.
The big news here is that Mario Kart Arcade GP VR will be one of the supported games. The Japan Times reports:
"… there have been driving games based on Nintendo Co.'s popular "Mario Kart" game series at regular arcades in the past.

But unlike driving while watching the action through a monitor, players using 3-D headsets will feel like they are actually driving Mario's go-kart in a fantasy world.

Moreover, because the players wear devices that give them a sense of touch, they can actually pick up virtual turtle shells or banana skins that appear on the track and throw them at other players — action that is popular with "Mario Kart" aficionados."
Mario Kart Arcade GP VR will be played using the HTC Vive. Nintendo isn't developing the game specifically, but this is a pretty interesting development nonetheless.
Leave a Reply