Mario Kart Tour reveals brand new Plant Cove track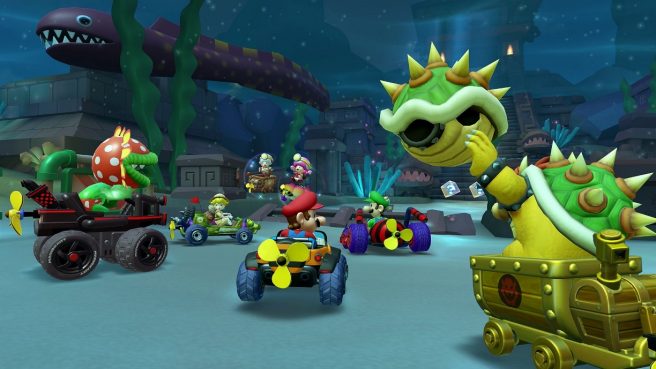 Mario Kart Tour is set to receive a brand new course known as Plant Cove, Nintendo has announced. This track has never appeared in the series previously.
Nintendo provided a first look a the course today, pictured above. It obviously has a water theme going on, but we only have a glimpse for now. We do know that it will be featured in the Exploration Tour on February 7 at 10 PM PT / February 8 at 1 AM ET. Full details about the event have not yet been provided.
Here's the tweet about the Plant Cove track in Mario Kart Tour:
Piranha Plant Cove, an all-new course for the Mario Kart series, will appear in the Exploration Tour starting Feb. 7, 10:00 PM PT! To get ready, can you spot the differences between these two images? There are 10 in total! #MarioKartTour pic.twitter.com/TV0dus2CZJ

— Mario Kart Tour (@mariokarttourEN) February 2, 2023
Now the question is whether Plant Cove will be showing up in Mario Kart 8 Deluxe via the game's Booster Course Pass. There are still a few rounds of DLC to go, so it's certainly a possibility. A few Mario Kart Tour tracks have already appeared in the Booster Course Pass. Three more waves are planned for 2023. We have a helpful guide keeping track of everything for the Booster Course Pass here.
Mario Kart Tour is currently available on mobile via iOS and Android. Let us know what you think of the new Plant Cove track in the comments below.
Leave a Reply