Mario + Rabbids Kingdom Battle played by over 10 million people, interview with its creators
Posted on August 29, 2022 by Nicolas in News, Switch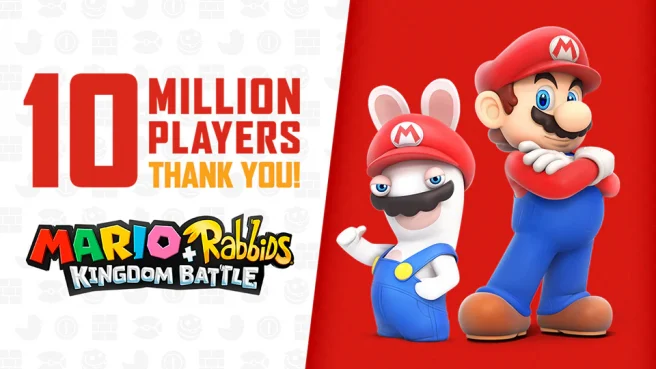 Ubisoft has just announced that the original Mario + Rabbids game, Kingdom Battle, has been played by over 10 million people. This news comes in celebration of the game's fifth anniversary, only a few months before the launch of its sequel, Mario + Rabbids Sparks of Hope.
Additionally, Ubisoft have also shared an interview with the game's Creative Director Davide Soliani, Lead Producer Xavier Manzanares, and Associate Producer Cristina Nava which covers the transition they went through in beginning work on Mario +Rabbids Sparks of Hope.
The three confirm that the success of the original Mario + Rabbids Kingdom Battle was encouraging, as it meant that "all [their] efforts in terms of gameplay, humor, narrative, and so on paid off", which reinvigorated the team and provided added motivation as they began jumping into the sequel's development. This contributed to the desire of having Sparks of Hope greatly expand upon the established universe, enriching it while refining and redefining many aspects of the first game, like the combat, exploration, and Hero archetypes, in an effort to "surprise fans of the first game" and respond to the feedback received for Kingdom Battle.
This expansion is also what caused Ubisoft Chengdu, Montpellier and Pune to join Ubisoft Milan and Paris. "The game's scope changed a lot and evolved compared to Kingdom Battle. It's bigger, so we needed new collaboration for the project." shares Xavier Manzanares. While the Paris and Milan studios are still co-leading the artistic direction, creative vision, tech vision, and design, Ubisoft Chengdu was brought on to develop the planets and NPCs, Montpellier to work on cinematics and animation support, and Pune to help test the game. As such the game was truly a collaborative project, which extends to the involvement Yoko Shimomura and Gareth Coker joining Grant Kirkhope as co-composers for the game. The goal was to have each them bring their unique styles together to fulfill the game's vision, which has seemingly made for an "incredible cocktail" and a brilliant result.
Mario + Rabbids Kingdom Battle is currently available on Switch. Its sequel, Mario + Rabbids Sparks of Hope is set to release on the platform October 20, 2022.
Leave a Reply