Metal Max Xeno: Reborn – screenshots, DLC and Japanese limited edition detailed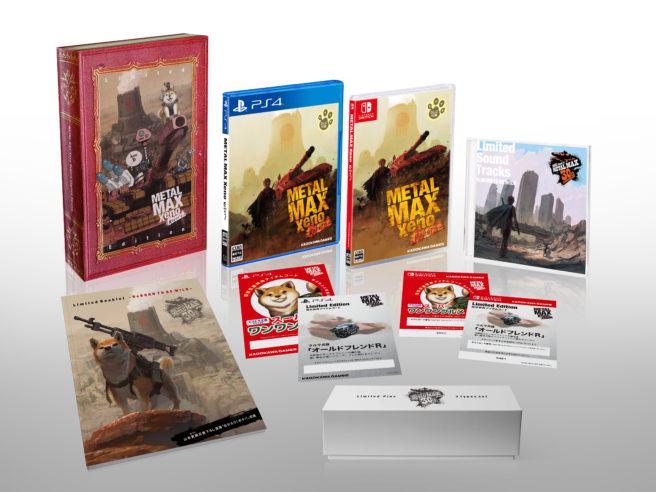 Yesterday, we learned that Metal Max Xeno: Reborn will be released in Japan on March 26, 2020. Today, via a press release in Japan (credit to Gematsu for the translation), Kadokawa Games released some new screenshots for the game, which you can find in the gallery below. They also confirmed that first-print copies of the game would come with a special piece of DLC: "Super Woof-Woof Gourmet", dog food for the dog Pochi.
A limited edition (pictured above) of the game will also be available in Japan. It'll cost 9,980 Yen and contains the following:
Exclusive box featuring special artwork of the R Wolf vehicle and Pochi illustrated by Atsuji Yamamoto
A copy of the Metal Max Xeno: Reborn standard edition for PlayStation 4 or Switch with the first-print bonus downloadable content "Super Woof-Woof Gourmet"
Exclusive bonus downloadable content "Old Friend R" – A vehicle weapon (engine) that can be used in the game. It is a revived R type (improved version) of a first-class engine that will come in handy from the early to middle stages of the game.\
Special Booklet "ReBorn to be Wild" featuring the manga "Gomen na Pochi" (tentative title) by Atsuji Yamamoto
Set of three special mega-size pins of NOA, a tank, and Pochi
Finally, on January 17 at 7 PM JST, there will be a special live stream during which Kadokawa Games will show off live gameplay for the first time.
Leave a Reply