Miyamoto and Ubisoft on Mario + Rabbids – origins, Mario's gun, "some extra content" later, leaks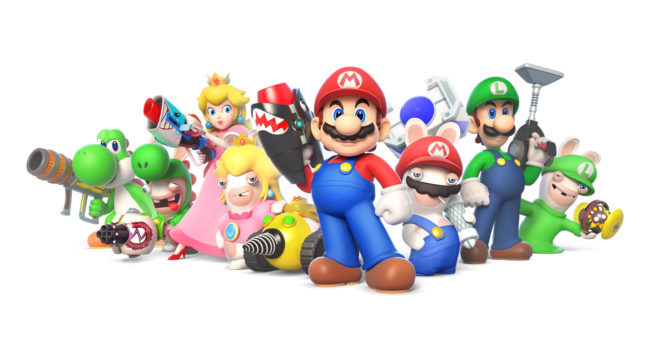 This information comes from Shigeru Miyamoto and Ubisoft CEO Yves Guillemot…
On how the game came to be…
Shigeru Miyamoto: It started out when launching Just Dance in Japan – and the idea to have Mario in there. Ubisoft has provided a lot of support for [Nintendo] hardware and they understand how it works. They've made products which are very satisfactory and fit the market we're shooting for. We've had a relationship now for over 20 years, but this is the first time we're operating at the level where we're sharing characters.
In terms of major games in both companies – Ubisoft has Rayman, it's a similar sort of platformer. We thought about ways of collaboration and then Rabbids came up – and that them collaborating with Mario might be a fun idea. We also wanted to create a new genre with this collaboration.
Yves Guillemot: We admire what Nintendo does. We also thought we could learn a lot from this collaboration. Our teams did Just Dance together – Nintendo published Just Dance in Japan, and they reworked the core concept to make it fit with the Japanese market.
Xavier [Poix, Ubisoft's French studios manager] and his team made a proposal to Nintendo to put those two worlds together, and Mr. Miyamoto reacted strongly – three years ago actually, at E3 – saying 'I'm ready to see more'. So Xavier's team went to Japan to show more of that possible collaboration.
On Mario wielding a gun…
Shigeru Miyamoto: In terms of Mario wielding a gun, it's something which was talked about for a while within Nintendo to work out what the appropriate way to do that would be. There was a time in the development of Splatoon where it could have been a Mario-based game. But we decided that a new style of weapon would work. We had a lot of discussion between Ubisoft and Nintendo to make what you see today.
On what's next for Nintendo and Ubisoft's partnership…
Yves Guillemot: It's too early to say – we're finishing the game and we'll see what it does. For sure, we'll analyse if we can do other things, but the first step is to make sure this one is coming along well. And there will be some extra content coming along after… It's already a long-term partnership on this one.
On the leaks…
Yves Guillemot: First, I want to reassure you – we are not part of that [laughs]. We combat it, because we think it's not a good way to present a game. What we're happy with is a few games were still not known by the public [at E3] so you could discover Beyond Good & Evil 2 and the others. It's good we are managing to still keep… some secrets.
Finally, Mario + Rabbids feels like a game which reflects some of the playful, individual nature of both your companies – and for Ubisoft, it comes at a time where there is a genuine threat to the company's independence. Is it important to show projects like this now?
Yves Guillemot: Yes it is – it's important to show what our teams can do. What is important – and always has been within the company – is to create something new and different. Here, [our developers] were so happy with the potential collaboration with Mr. Miyamoto, to learn from the master of this industry, to collaborate with him is something our team has been completely amazed by. So yes, we want all of our teams to grow, to create new things, but also things which are unforgettable. With this equation, it has been something terrific. And, as you said, it is important for us to show that, but it really is the nature of Ubisoft.
Leave a Reply