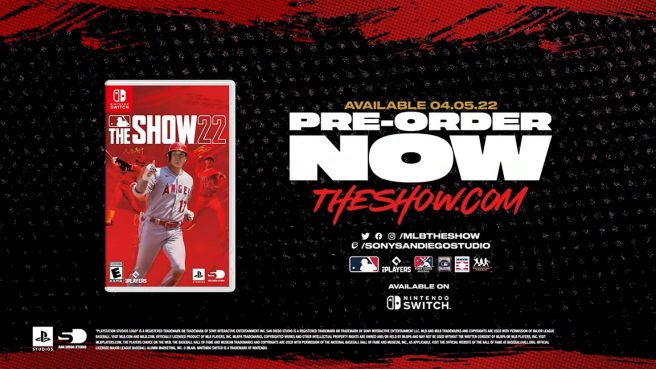 MLB The Show 22 is coming to Switch, Sony just announced. It will release on April 5, 2022.
It was announced at the end of 2019 that MLB The Show would no longer be PlayStation-exclusive. While it did have an Xbox version last year, it still wasn't on Switch. That's changing for 2022 though and it will be the series' first appearance ever on a Nintendo platform.
Shohei Ohtani from the Angels is the cover athlete for MLB The Show 22. During the baseball season last year, he hit 46 home runs, had 100 RBI's, and had 26 stolen bases while also pitching to a 9-2 record with a 3.18 ERA and 156 strikeouts.
When it comes to the Switch version of MLB The Show 22, players will be able to go up against those on PlayStation and Xbox with cross-platform play. Cross progression is also supported to earn and use any earned content on any platform or generation. Finally, cross saves are included as well for Road to the Show and Franchise mode.
Finally, here's a note regarding MLB The Show Account:
With MLB The Show 22, you now can easily move from platform to platform and keep access to your entire inventory of cards, and the MLB The Show Account allows you to do so. Just create your MLB The Show Account on TheShow.com and link your PlayStation, Xbox, and/or Switch and you are all set. While you are creating your new linked account, make sure you sign-up for The Scouting Report, so we can send you all the latest MLB The Show 22 information and subscribers also get an exclusive pack each month starting in April. So head over to www.theshow.com to get your account setup.
Take a look at the announcement trailer for MLB The Show 22 below.
Leave a Reply