Moero Chronicle Hyper's final western release date is April 26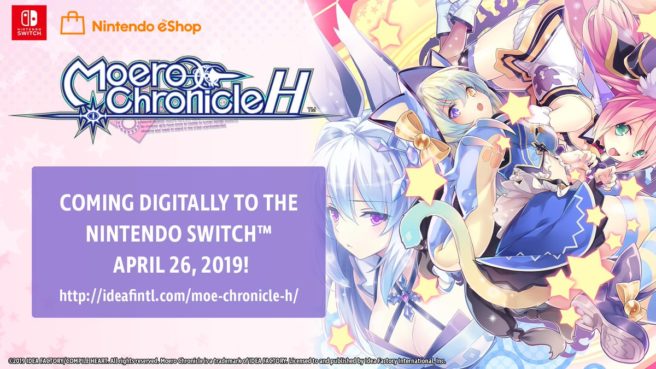 After it was previously listed incorrectly on the eShop, Idea Factory has announced a final western release date for Moero Chronicle Hyper. The game launches in North America and Europe on April 26.
Although the game previously appeared on other platforms, Moero Chronicle Hyper will have some new features on Switch. Find the full rundown below.
Originally released as Moero Chronicle in Japan and Asia on the PlayStation Vita system, followed by a 2017 Western release on Steam, this dungeon-crawling RPG asks, "How cute can a monster be?" Fight through dungeons, recruiting Monster Girls, and building relationships with them in order to solve the mystery afflicting the denizens of Monstopia!

The Switch release will be remastered in HD and will also include four new features:

– Vibration Function – Added for the "Bumping Scratch" session
– New Items – Stat-boosting items for your party
– Autopilot Mode – Allows players to pick a coordinate on the dungeon map and automatically heads toward that direction
– ALL Original Art and Event CGs – Originally released on the PlayStation Vita and Steam version, the Nintendo Switch release will also include all original art and event CGs.
Source: Idea Factory PR
Leave a Reply