Monster Hunter Rise teases Sonic the Hedgehog collaboration, reveals Ghosts 'n Goblins Resurrection collaboration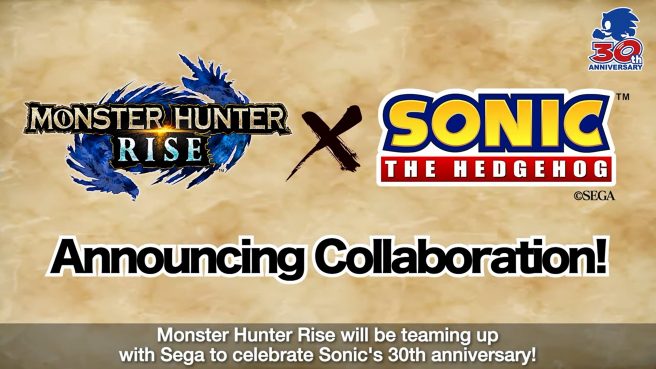 During its TGS 2021 program today, Capcom unveiled the latest news on Monster Hunter Rise, including collaborations for Sonic the Hedgehog as well as Ghosts 'n Goblins Resurrection.
During the stream, Capcom acknowledged its previous partnership with SEGA for Monster Hunter 4 Ultimate. However, this time around, the collaboration "will be different", according to Yasunori Ichinose. Ichinose added that the team is "working hard to make it as much fun as possible." Further information about the Sonic collaboration in Monster Hunter Rise was not shared.
For Ghosts 'n Goblins Resurrection, the collaboration already has a set date of October 29. Players can take on a new Event Quest to earn materials to create layered armor. This will turn your Hunter into Arthur from the Ghosts 'n Goblins series. Aside from looking like Arthur, the throwing knives will turn into lances. Additionally, a cutscene will appear after completing a quest. Music from Ghosts 'n Goblins Resurrection will be featured as well.
Going back to the Sonic the Hedgehog collaboration in Monster Hunter Rise, we're waiting on a date for that one. Capcom says "it will take a bit more time", but hopes fans are looking forward to it. We'll let you know as soon as we have more information, including the release date.
Information about collaborations will be posted on the official website here.
Leave a Reply