Monster Hunter Stories 2 devs on updated visual style and addition of co-op, concept images shown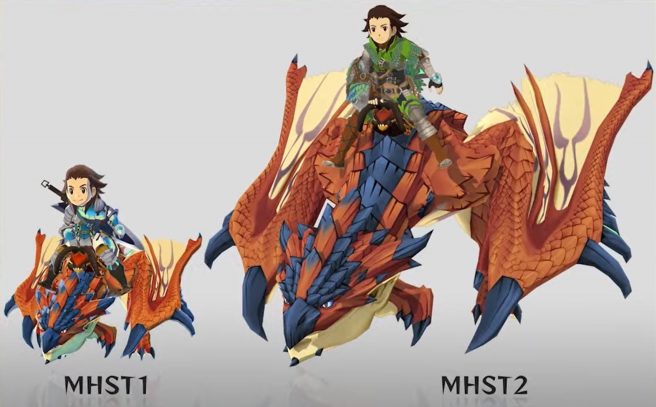 According to Monster Hunter series producer Ryozo Tsujimoto, the team working on Monster Hunter Stories 2: Wings of Ruin spent "a long time deciding what to do with the graphics at first."
Tsujimoto, along with director Kenji Oguru, spoke about the visual style during the Monster Hunter Stories 2 Special Pre-Launch Program. Oguru mentioned wanting to appeal to a wider audience compared to the first entry on 3DS. The character models were a big focus, and the team ended up going with more realistic body proportions.
Here's the exchange between Tsujimoto and Oguru, which also includes some talk about adding in co-op:
Tsujimoto: For Stories 2, I remember we took a long time deciding what to do with the graphics at first.

Oguru: We did indeed. This might sound vague, but basically we wanted to find a way to appeal to a wider audience. So we began to ask ourselves, "What does that mean in terms of graphics?" and so we began trying ideas. First we decided to change the body proportions and feel of the models, discussing how much to change. We started off with a complete proportion overhaul… Do you remember when you saw the first designs?

Tsujimoto: The level of depth in the characters and the shadowing really made an impression on me.

Oguru: Yeah, I see what you mean.

Tsujimoto: I thought the art style was moving in the right direction. We have a few images here – the original proposed designs for Stories 2. I felt that these images are really atmospheric, with nice touches of light and dark. And this was just the starting point, right? And it changed my perspective. These design ideas started to raise my expectations for the game.

Oguru: Along with graphics, there was one other thing that I really wanted to focus on. That was the content, in general. I was thinking, what can we do to give the best experience to players? And the first thing I wanted to do was add a co-op element. Stories featured new content called Versus Battles. For Stories 2, we also wanted to add a co-op element, so we did some trial-and-error to see what would work. While we working on updates for the first Stories game on the 3DS, we tried to see if we could implement co-op into the game, and this is what we came up with. I think you'll recall when we made this. After we managed this, I had a feeling we could implement co-op somehow. I thought that it wouldn't just be fun to have a co-op mode, but it would add a core element of Monster Hunter, namely getting together and socializing. I believe we were able to achieve this social aspect, even through turn-based battle gameplay.

Tsujimoto: … Does that mean you were doing tests before Stories 2 was even given the green light for development?

Oguru: Yeah, it wasn't even a thought yet. Basically I was doing fun experiments at work.
Monster Hunter Stories 2: Wings of Ruin will be available for Switch on July 9.
Leave a Reply