Monster Menu receiving English release in the west in 2023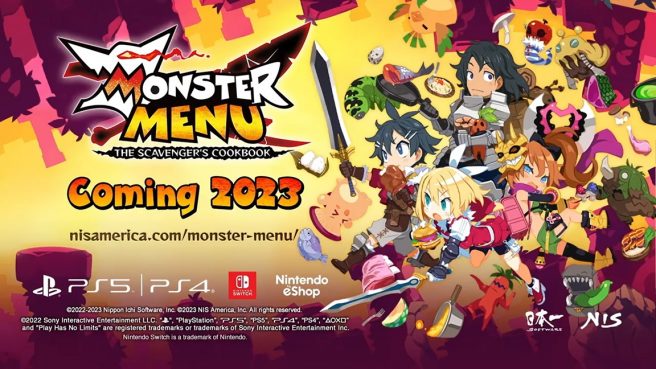 NIS America is localizing Monster Menu: The Scavenger's Cookbook for English release on Switch, the company revealed today. A release is planned for Spring 2023.
The game was previously known by its Japanese name Shikabanegurai no Boukenmeshi. Back in January, it made its first appearance as a Japan-only title.
The title is a dungeon survival tactical RPG. Players lead a group of adventurers who are stranded out of a dungeon by gathering food and materials.
We have the following overview for Monster Menu:
Joining the strategy RPG ranks, Monster Menu: The Scavenger's Cookbook brings new flavors of strategy and adventure to the Nippon Ichi Software mix!

Tighten your pack and loosen your belt before digging into this dungeon-crawling survival adventure! Monster Menu: The Scavenger's Cookbook spices up the classic strategy RPG formula with deliciously fun cooking-based mechanics. Indulge in detailed character creation for your party, gather resources, ingredients, and items while exploring, and fight monsters in tactical combat. Then kick back by the campfire as you use what you've collected to cook meals that can give you the edge for your next course of dungeon delving.

Key Features

All You Can Eat – Defeat and devour monsters in combat or use their meat to cook meals at the campfire to recover HP, boost your skills, and raise your stats!
Choose Your Own Adventurer – Create your team of up to four adventurers by customizing the class, appearance, voice, and pose of each one!
A Flavor of Its Own – Experience a unique combination of gameplay from the strategy RPG, roguelike, and survival game genres!
Find a trailer announcing the English version.
Monster Menu will have a physical and digital release on Switch. NIS America will have pre-orders for a limited edition here.
Leave a Reply