Monster Sanctuary getting a physical release on Switch with collector's edition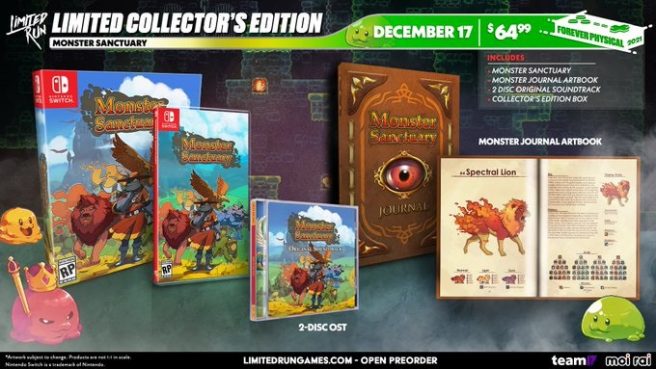 Limited Run Games is planning a physical release for Monster Sanctuary, the company announced today.
The boxed versions will come with a standard edition and collector's edition. With the latter format, you'll receive various bonuses like a Monster Journal art book and CD soundtrack.
Monster Sanctuary first appeared on Switch in December 2020, and this is the first time it will be offered physically.
Choose your spectral familiar and follow in your ancestors' footsteps to become a Monster keeper and save the Monster Sanctuary.

Embark on an epic adventure using the powers of the monsters you collect, and the team you build, to unlock an ever-expanding world. On your quest to become the ultimate Monster Keeper you'll unravel the cause of a mystery that threatens the peace between humans and monsters.

Explore a Metroidvania inspired world.

The powers of your monsters will allow you to explore and expand the world. Cut down vines, smash down walls and glide over gaps- all with the help of your monsters.

Assemble your team.

Hatch collect and train monsters from across the world and build your team. Every monster has a unique skill tree to allow you to customize and tailor your party.

Clash in tactical 3V3 combat.

Strategically order your attacks for maximum efficiency, stacking your blows to create combos. Grind and find the best combo to earn the rarest monster eggs!

Battle Monster Keepers across the world!

Go head to head in a test of skill and ability in online player vs player! Gather and train monsters, max out their skill trees and take on friends and foes in an epic battle until your monsters are the last standing.
The physical release for Monster Sanctuary will be up for pre-order starting on December 17 here. Limited Run Games will be accepting reservations over a four week period.
Leave a Reply