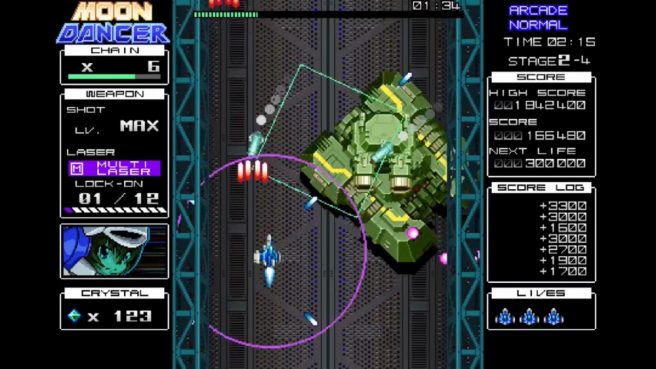 Following the launch of Moon Dancer on Switch in the west recently, gameplay has emerged. Fans can get a look at the shoot 'em up title with 13 minutes of footage.
Learn more about Moon Dancer in the following overview:
Moon Dancer is a vertically scrolling shmup featuring exhilarating lock-on lasers. Operate the fighter "Moon Dancer" equipped with shots and lock-on lasers to defeat the enemy. This game requires you to quickly defeat the enemies that appear one after another. The feature of this game is the balance that prioritizes attacking the enemy rather than avoiding bullets.

The Nintendo Switch? version has enhanced graphics by Tenmaru. Includes "Arcade Mode" and "Caravan Mode". Arcade mode consists of 8 stages. You can choose from 3 levels of difficulty. If you break through all the stages, the mission will be completed. Caravan mode is a 3-minute limited challenge to get a high score. In all modes, Local ranking and online ranking are supported.

Two types of music are included: the original version by HIROKKEY and the chiptune arrangement version using the NES sound source by Taku Shiiba. Music can be switched in the option menu.
We've included the gameplay video for Moon Dancer below.
Moon Dancer is live on the Switch eShop. It contains English, Japanese, Spanish, French, German, Italian, and Portuguese language support.
Leave a Reply