Mutant Mudds Super Challenge details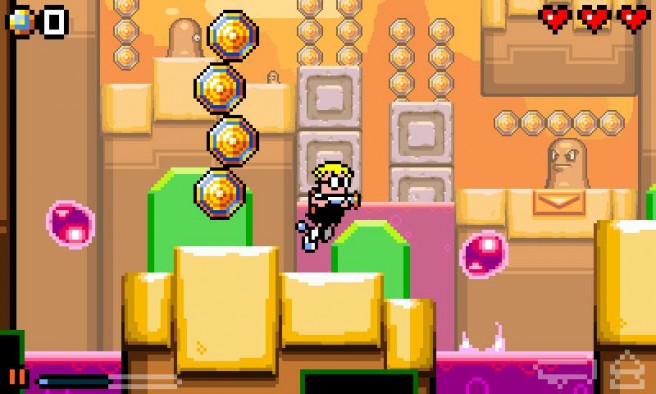 Renegade Kid revealed its latest eShop project, Mutant Mudds Super Challenge, towards the end of January. Studio co-founder Jools Watsham offers further information about the Wii U and 3DS eShop game in this month's issue of Nintendo Force.
Mutant Mudds Super Challenge picks up right where the original game picks off (assuming you completed the Grannie levels). Max learns about the location of the original meteor impact site, and that Mutant Mudds are still originating from it. He then sets off to find and destroy the meteor.
As previously mentioned, Mutant Mudds Super Challenge is an entirely new game with 40 new levels, which are spread across five worlds. There is no difficulty curve here. Instead, Renegade Kid is placing players in the toughest of stages "that will put every Mutant Mudds fan's skills to the test."
One new element Mutant Mudds Super Challenge introduces is secret pathways, which can be located by walking behind walls – "indicated with a small porthole somewhere to reveal that pick-ups are hidden inside."
Renegade Kid is also throwing in new level art themes and chiptune music from composer Troupe Gammage.
A release date for Mutant Mudds Super Challenge hasn't been determined. However, Renegade Kid hopes to have it out sometime within "the next few months".
Leave a Reply