My Nintendo Europe adds Nintendo 64 poster set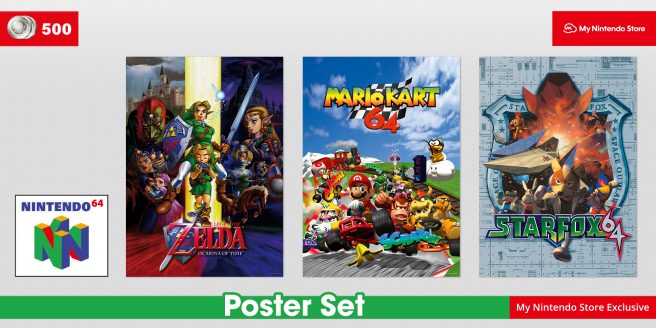 My Nintendo members in Europe can now purchase a set of posters showing off several Nintendo 64 classics with their Platinum Points. The set includes 3 posters, one of The Legend of Zelda: Ocarina of Time, one for Mario Kart 64, and lastly a poster featuring Starfox 64. Here are the full details:
For the cost of 500 Platinum Points in addition to a shipping fee, My Nintendo members in Europe can get their hands on this set of 3 posters. These are available exclusively within the My Nintendo Store.
If previous items are anything to judge by, then these posters probably will not be available for long before they are sold out. Be sure to get them while you can! The My Nintendo Europe store page for this poster set can be accessed here.
For those of you living in other regions who are looking to enjoy some of the classics of the Nintendo 64 era, Banjo Kazooie was just added to Nintendo Switch Online + Expansion Pack, and you can learn more about that new addition with our coverage here.
Leave a Reply