Neptunia GameMaker R:Evolution details, debut trailer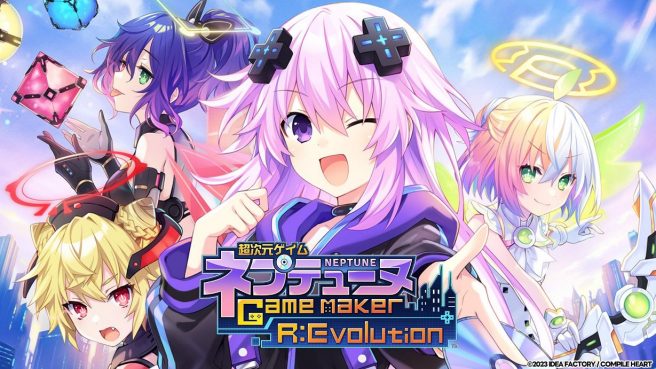 Original (3/23): Neptunia GameMaker R:Evolution was announced for Switch yesterday, and Compile Heart has now followed up with even more details. The first trailer is also available.
Here's the full information rundown, courtesy of Gematsu:
– In the world of Gameindustri, which is based on the real-world games industry, beautiful girls themed after fictitious game consoles are the stars in this latest "Personification x Moe! x Transformation" RPG
– New "management" system
– Manage a game company, and gradually expand with the goal of becoming a large enterprise
– This is a Neptunia game evolved in every aspect
– Expanded and deeper four-character party battle system
– "Dungeon exploration" that allows for high-speed movement by motorcycle
– "Heartful Photo Mode" that allows you to capture manga-like expressions
– In a world of competing game studios, game studios fight for power in order to acquire "market share" in the game developer world
– New game studio is about to enter the battle for survival in the world of Gamindustri
– Adult Neptune, Pipi, Jarga, Lideo, and Croire were all drawn by popular llustrator Tsunako
– Game developer revolution story that interweaves the dimension-hopping Adult Neptune, the three "failure goddesses," and recorder of history Croire
– The concept of Neptunia GameMaker R:Evolution is expanding a game studio as its president
– Your management skills will be put to the test in the newly added management parts
– Develop "discs" that can strengthen character action skills
– As your company grows, you will be able to develop even better discs, so gradually expand with the goal of becoming a large enterprise
– Fight in evolved combination battles in which characters cooperate with each other
– Returning elements include enhanced CPU transformations, and flashy EXE Drive attacks that eradicate enemies
– By combining these in cooperative action, dynamic battles will unfold
View the Neptunia GameMaker R:Evolution debut trailer below.
Neptunia GameMaker R:Evolution launches for Switch on August 19, 2023 in Japan. A western release has not yet been announced.
Access the official site here.
---
Update (4/26): Another trailer for the game has been released, which we have below.
---
Update (5/24): The opening movie has now been released. Check it out below.
Leave a Reply