New discovery reveals that Zelda: Breath of the Wild NPCs are based on an advanced version of the Mii format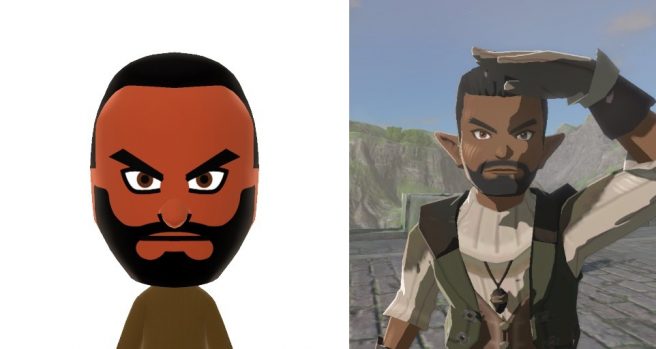 A major discovery has come to light regarding the manner in which NPCs were created in The Legend of Zelda: Breath of the Wild. It turns out that they have a major connection to Miis.
Twitter user HEYimHeroic learned that NPCs in the game use an advanced version of the Mii format, known in the files as "UMii". UMiis are similar to Miis from Wii U and 3DS with most of the same parameters. There are some differences like moles no longer being supported.
Additionally, Breath of the Wild doesn't support every hairstyle that Miis do. If you were to load a hairstyle that isn't supported, a separate file is called that makes a conversion into a hair type that looks the most similar.
On a similar note, basically any Mii can be imported into Zelda: Breath of the Wild. It just requires quite a bit of modding, conversion, and time.
not Mii data. UMii data. which is like Mii data, if it sucked. (and supported decimals and negative numbers, stuff like that… but it SUCKS)

it's very complicated to get into the details but basically: UMiis are Miis 2.0, and *that's* what BotW uses

— i'm alice (@HEYimHeroic) December 29, 2020
https://twitter.com/HEYimHeroic/status/1345239849306107904
"the NPCs in Breath of the Wild are not Miis, trust me-"

*directly copies Mii data into the game*

the very first ever custom BotW NPC (also known as UMiis) has been a success. and it's me. i'm the NPC. pic.twitter.com/UPODZv4FYV

— i'm alice (@HEYimHeroic) December 31, 2020
a handful of people are already very open to the idea of me doing commissions, so i'll probably end up doing it! and if you like Miis like i do, be sure to check out my website, the Mii Library, where i document every official Mii. almost at 100 Miis rn! https://t.co/cbiqugjQh5

— i'm alice (@HEYimHeroic) January 4, 2021
Zelda: Breath of the Wild will be four years old in March. The game originally released on March 3, 2017.
Leave a Reply