New LEGO The Incredibles details, dev comments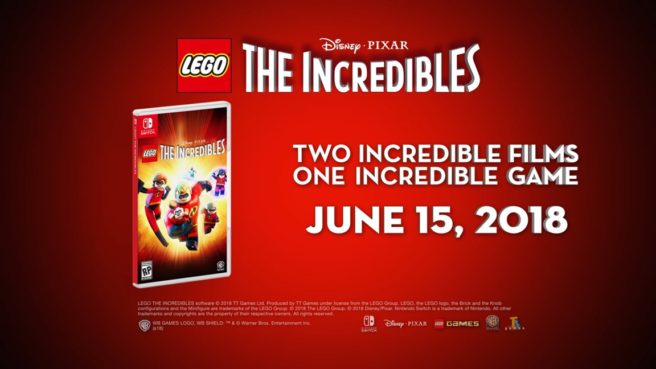 Warner Bros. recently announced LEGO The Incredibles, and it's heading to Switch in Japan. Insider managed to obtain a few details since then. The site goes over how long the project has been in development for and gameplay tidbits, and shares some developer comments from TT Games executive producer Nick Ricks.
Here's the roundup of information:
– In development since 2016
– Team worked very closely with Disney-Pixar
"It has been our first time collaboration with Disney-Pixar and this has had a profound effect on how we've created our story, cut-scenes and characters," said Ricks. "This collaboration certainly comes through strongly with the innovations we've made in the characters designs and abilities, along with ensuring the dialogue, scene selection and camera work are some of the best that I've ever seen. On top of this we have a massive open-world hub, filled with crime lords that must be cleaned up, all new ways to build immense Lego structures and focus on the Parr family's collaborative crime-fighting results."
– Face off against Syndrome's Omnidroids, the secondary antagonists from the first movie
– Story levels along with worlds to visit
– These include Municiberg and Nomanisan Island
– Use the Parr's super powers to progress through levels and take down villains in each city
– The game will include an addition that hasn't previously been seen in LEGO games before
– Crime waves are a new addition
"In these sections, our massive hub world has been sub-divided in to a series of districts, each under the dominion of an infamous crime lord. The players will need to use the family's differing and unique crime-fighting styles to defeat the goons, confront the lords, and bring law and order to all." – Ricks
– Sounds like you'll play as more than just the Parr family
– Characters from both Incredibles movies
– Supers, villains, and locations have been re-built in LEGO style
You can bet if the Incredibles are heading to Syndrome's headquarters of Nomanisan Island that the villain is bound to be there. The photo above shows the Incredibles' friend Frozone on, what appears to be, the same island.
"One of the many meeting of minds that we've had over the course of this game, has been both TT's and Disney-Pixar's fondness for self-referential jokes and hidden references. For us, its speaks of how kids play with their Legos toys, happy to combine and incorporate other minifigures and Lego bricks as best suits their imagination. It is precisely this imaginative stimulation that Disney-Pixar tap into as well, delighting and surprising their fans. Whilst I can't speak of any specifics, Easter eggs do feel like a very natural fit…" – Ricks
Leave a Reply