Niantic CEO explains Pokemon GO Fest tech issues, Moltres and Zapdos distributions dated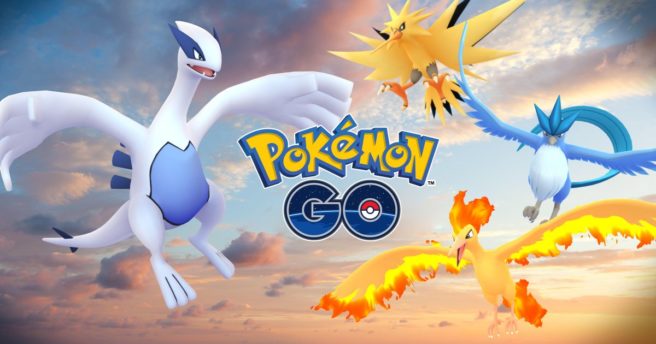 The inaugural Pokemon GO Fest did not go well. Among the various issues were technical problems, which made it impossible for many attendees to play the game and participate in events for most of the day.
Over on the Niantic blog, CEO John Hanke commented on the situation in detail. Hanke ultimately said that technical issues "caused client crashes and interfered with gameplay for some users." Hanke also pointed to an "oversaturation of the mobile data networks of some network providers" as well as network congestion, making it so some players couldn't connect to the internet.
Pokemon GO Fest wasn't a complete wash. Hanke did note how many people played together once issues were finally ironed out, and fans continued well into the night and throughout Sunday. Players in downtown Chicago participated in more than 69,000 Raid Battles and captured more than 7.7 million Pokemon, including more than 440,000 Legendary Pokemon. Trainers worldwide also participated in 4.6 million Raid Battles and caught more than 500 million Pokemon, including more than 1.9 million Legendary Pokemon.
Finally, Hanke confirmed distributions for the next Legendary Pokemon, Moltres and Zapdos. The former will be available between July 31 and August 7, while the latter is planned between August 8 and August 14. Also keep in mind that Articuno will only be offered through July 31.
Read Hanke's full message below.
During Pokémon GO Fest 2017 in Chicago we encountered software and network problems that prevented many people from being able to connect to the game. Players were disappointed with their experience that morning, and we heard boos and shouts from the crowd. We'd like to update you on what caused these issues.

While our technical team worked diligently with our event vendor and telecommunications companies to attempt to resolve the issues, I spent nearly the entire day talking face to face with attendees. So did much of the team of Niantic staff who came to Chicago to support the event. During the hours I spent talking to attendees, I passed on the information we had and communicated our policy on refunds and game credits once we had them but mostly I listened to what our players had to say. Certainly many were upset and I did my best to listen and offer any assistance that I could. Some were able to play normally (more on that later) and more than a few Unown Pokémon were captured by those gathered around to talk.

Among those who came up to me, many shared stories of how important the game was to them. Some talked about losing weight, others about a path to recovery after serious illness, and some about repaired relationships with children, siblings and parents. Many groups of friends who had traveled together talked about the shared bond the game created for them. For those stories I am grateful because it was obviously an incredibly stressful and disappointing day for all of us. Both I personally and all of Niantic apologize for the inconvenience and frustration.

What happened? Technical issues with our game software caused client crashes and interfered with gameplay for some users. The gameplay issue was resolved with a server configuration change and the crashes were also addressed for many but not all users. A more protracted problem was caused by oversaturation of the mobile data networks of some network providers. This caused many attendees to be unable to access Pokémon GO or other Internet services. Network congestion also led to a login issue which affected some users able to access the Internet. This latency-related login issue was addressed with a second Niantic configuration change.

On the pure network access issue, we provided detailed estimates on attendance and required data throughput per user to our event partner who worked with the major carriers to allow them to plan for adequate coverage. Some carriers deployed Cellular on Wheels (COWs) to extend their capacity. In other cases the providers deemed them unnecessary based on other infrastructure already in place at the site. Users reported different levels of success with these providers. Wifi was enabled by one provider as a solution which helped some users but not all. Sprint was onsite as an official partner, deployed a COW, and their network was busy but held up well. Although many players were able to play normally for the majority of the day, many were not, and based on that we made a number of adjustments to the event plan.

Early in the afternoon we informed players that we would refund tickets to those who wanted it and would grant $100 USD in PokéCoins to all attendees due to the inconvenience. We also released the 'unique' Pokémon spawning at the event to the surrounding neighborhoods to give people a way to catch them where the mobile network was stronger.

Later in the afternoon we announced the winner of the challenge and let players know that all attendees would receive a Legendary Pokémon in their accounts.

In the early evening, as part of a planned gameplay update for all Trainers globally, we released the Legendary Pokémon Articuno and Lugia to spawn in a broader area around downtown Chicago and around the world.

That's when Pokémon GO Trainers did something awesome. As people filed out of the event into surrounding areas where the cellular network was less overburdened, they were able to play together and to capture Legendary Pokémon 'in the wild.' It was inspiring to watch Trainers band together with their friends and to enjoy the beautiful evening together despite the struggles of the day. That spirit extended well into the night and resumed again the next day with clusters of Pokémon GO Trainers roaming the city battling Legendary Pokémon throughout the day Sunday. Together, from late Saturday to Sunday, Trainers in downtown Chicago participated in more than 69,000 Raid Battles and captured more than 7.7 million Pokémon, including more than 440,000 Legendary Pokémon. It was an amazing sight to behold and is a testament to the love of the game and to the bonds these Trainers share with one another.

Trainers from around the world joined in as well. During that same time period they participated in more than 4.6 million Raid Battles and caught more than 500 million Pokémon, including more than 1.9 million Legendary Pokémon.

At the same time we were struggling in Chicago, an amazing event was unfolding in Chester, UK, organized by our partner Big Heritage. More than 17,000 people visited that event over two days in one of England's oldest and most historic settings. The combination of history and family-oriented Pokémon GO play was a hit.

We will be folding all of our learnings into the Pokémon GO events planned for later this summer in Yokohama, Japan and across Europe.

As these events unfold, Trainers all around the world will have a chance to capture even more Legendary Pokémon. Based on the efforts Saturday at Pokémon GO Fest, Lugia and Articuno were unlocked. In the weeks ahead, they will be joined by Moltres and Zapdos.

Articuno (Team Mystic) released on Saturday, July 22 and available through Monday, July 31.
Moltres (Team Valor) to be released on Monday, July 31 and available through Monday, August 7.
Zapdos (Team Instinct) to be released on Monday, August 8 and available through Monday, August 14.

Real-world events are core to the Niantic mission of exploration, exercise and social interaction. We've been doing events since the early days of Ingress in 2012. Those events grew progressively larger over time, starting with a few dozen attendees and growing to over 10,000 in Tokyo last summer. At each stage of growth, we encountered challenges and each time we overcame them, we gained new skills and pioneered new techniques for building real-world experiences that support our mission. Last Saturday was not a happy day for us but we are committed to listening to that feedback, however harsh, to improve what we do so that we can continue to build experiences that bring together people, technology, and the real-world in innovative ways.
Leave a Reply