NieR: Automata Switch tech analysis, including frame rate and resolution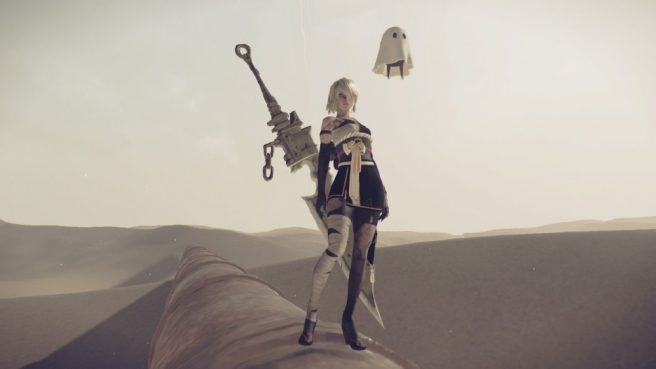 Thanks to Digital Foundry, we have a closer look at the technical side of NieR: Automata on Switch that delves into details like frame rate and resolution. Port studio Virtuos, while making some cuts and adjustments, seems to have done an admirable job bringing the title over to Nintendo's console.
– Switch version is comprehensively downgraded from other platforms but the overall image is comparable
– Reduction in texture detail on Switch with lower resolutions and simplified layers
– Foliage also paired back and altered
– Bushes feature much lower resolution alpha textures and have simplified layouts
– Grass density only mildly paired but, but 3D polygonal grass in the original versions replaced with alpha tested textures
– Lighting has been simplified to some degree
– Volumetric lighting absent or significantly scaled back on Switch
– Differences in ambient lighting at times
– Most of the time the Switch version looks fairly similar in this regard, comes down to smaller scale details
– Some of the geometric details in the environment have been lost on Switch
– Things only stick out in side-by-side comparisons
– Most cuts on Switch don't stand out when playing
– Pop-in is a major issue, but this happens on other consoles as well
– Switch version has anti-aliasing, which gives it a leg up on other consoles
– NieR: Automata resolution on Switch aims for 1080p when docked, which is higher than last-gen base consoles
– Targets 720p in portable mode
– Visuals are similar in docked and portable modes
– NieR: Auomata frame rate on Switch cut from 60 on other consoles to 30
– Early on, the frame rate is very stable
– Frame rate hitches become more common as you progress in the game
– These issues become more pronounced later on
– Some fights play out in sub 30 FPS territory and hung in the low to mid 20s at worst
– A handful of environments cause extended frame rate issues
– Frame rate may be a bit more stable in portable mode
– Performance level is overall reasonable
You can check out the full NieR: Automata Switch technical analysis below covering the frame rate, resolution, and more.
Leave a Reply