Night Trap: 25th Anniversary Edition coming to Switch this summer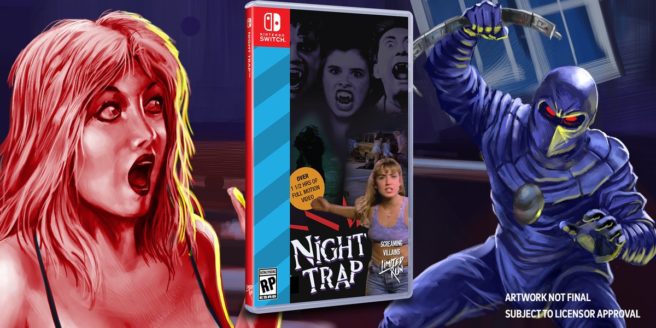 Night Trap: 25th Anniversary Edition is coming to Switch, Limited Run Games has announced. A release is tentatively planned for this summer.
There was some talk about Night Trap heading to Switch last year. Screaming Villains apparently was willing to let it happen, but said Nintendo "pulled out two days later for a very random reason." That reason was never clarified
It's unclear what's changed since then, but Night Trap will indeed be released on Switch. Limited Run Games is currently finishing up the port and will offer a physical version when it's ready.
Here's more on Night Trap for those who haven't heard of the title previously:
Originally developed by Digital Pictures in 1987 and released in 1992, Night Trap has been completely rebuilt, bringing it to a level of video quality never before seen.

Night Trap tells the story of five teenage girls spending the weekend at the Martin home. As a member of the Special Control Attack Team, your job is to monitor the home and protect the girls using an intricate system of cameras and traps as it is being invaded by vampires.

Night Trap – 25th Anniversary Edition also includes new features such as deleted scenes, two documentaries, the all-new Theater that allows you to watch all story-related videos uninterrupted, a new mode with online functionality called Survivor that will test your skills at trapping intruders and behind the scenes production images. For the first time ever, the unreleased prototype Scene Of The Crime will be fully playable and included with Night Trap – 25th Anniversary Edition.
Night Trap was a focus in United States congressional hearings regarding video game violence in 1993. Howard Lincoln, Nintendo's senior vice president at the time, said that Night Trap would never release on any of the company's platforms due to it not passing guidelines. However, designer Rob Fulop would later say that Lincoln was referring to technical guidelines. Some have said that Lincon spoke in a way to paint SEGA in a bad light and make Nintendo look more favorable.
Thanks to Arison for the tip.
Leave a Reply