Ninjala to add collaboration in Season 2, new story DLC and Spectator Mode in Season 3, much more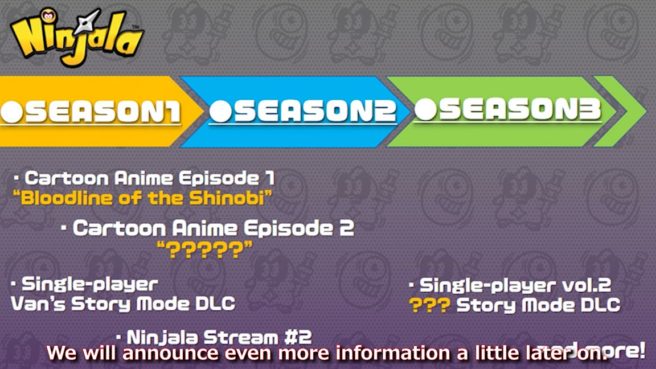 As part of the latest developer diary for Ninjala, GungHo has outlined future plans for the game.
Eventually, Ninjala will transition to Season 2, which will include a new anime episode and all types of new content. A mystery collaboration has also been teased.
Season 3 will feature similar content additions. On top of that though, plans are in place to add new story DLC as well as a Spectator Mode.
Here's the full rundown from GungHo and the sixth developer diary:
We are currently on Season 1, but in time we will move on to Season 2, Season 3, and so on. During the middle of Season 1, we will release the second episode of the Ninjala Cartoon Anime. Which character will be featured next? We hope you are looking forward to it. Also, we are planning to have Ninjala Stream #2 where we will announce the details of Season 2. Currently, for the single-player mode, we have Van's Story Mode available as DLC. We will be adding another Story Mode DLC featuring a different character for Season 3. We will announce more information a little later on.

Next, we would like to explain what kind of updates we will have for Season 2 and beyond. First are new stages. We will be adding a new stage. Next is new Gum Weapons. New Gum Weapons will be added in later updates. What kind of weapons will be added? And it won't just be new weapons, new Shinobi Cards will be added as well. So, I think even more new fighting strategies will begin to emerge. Of course, we will also have new costumes. We'll also add a new Ninjala Pass each season. And, we can't share details yet, but Season 2 will feature a collaboration. Yes indeed, we are planning to have a collab.

Next is the Season 3 update. For the Season 3 update we will add similar kinds of things like in Season 2, but the biggest update will be implementing Spectator Mode. You can watch other players from different angles in Spectator Mode. You'll be able to see from other players' point of view and from overhead, so you can enjoy Ninjala from different perspectives.
Leave a Reply