Nintendo and PlatinumGames explain how Bayonetta Origins came to be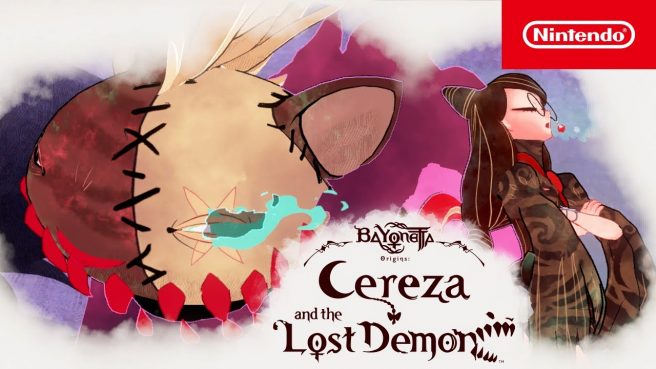 In a recent interview with Japanese magazine Famitsu, the team behind Bayonetta Origins: Cereza and the Lost Demon shared insight into how the game came to be.
When the title was unveiled at The Game Awards last December, it was a surprise to many. It not only features a different look for the franchise, but a unique style of gameplay as well. Something that was also a surprise was how it was planned to launch just a few months after Bayonetta 3.
The comments we translated come from supervisor Hideki Kamiya, Nintendo producer Makoto Okazaki, and director Abebe Tinari. You can read them below.
First please talk to us about the details of the development of this title.

Kamiya: It all began when talking with Nintendo about Bayonetta 3. When it came time to release Bayonetta 3, we talked about the idea of planning to add a little something extra. Lots of ideas were thrown around, and Nintendo suggested something along the lines of 'a Bayonetta prequel minigame'.

In truth, from a while ago I had casually mentioned while talking with Atsushi Inaba of PlatinumGames about 'wanting to make a story about Bayonetta from long ago'. Not wanting to pass up the opportunity, Inaba requested, "If we are going to do this, let's make a full project, and not a minigame". And with that it began.

Okazaki: Since it had transformed into a full project, there was a feeling we wanted to take the Bayonetta series in a different direction from Bayonetta 3. We wanted to attract people who perhaps didn't know the series, and people who had once played but since distanced themselves from Bayonetta. With that feeling in mind we began making the game.

You said you just talked about it casually in the past, but did you have thoughts like this back at the start of the Bayonetta series?

Kamiya: I have a lot of ambitions – for example I often say I would like to make a game about Jeanne (Bayonetta's childhood friend and an integral character to the series), but that's really just a complete fantasy.

And amongst the staff, there are unrealistic conversations and ideas like "We want to make a Bayonetta fighting game. In which case we'd have to include Cereza right?"

Even conversations like, "If we made a fighting game, Cereza wouldn't be able to fight would she?", "No no, if the Cheshire doll had some kind of power, Cereza would be able to fight too." Truly just idle talk like that, but we had thought for a long time we wanted the Bayonetta characters to appear in something new.

Once the project had started how did you solidify the contents of the game?

Kamiya: First, before we began planning the game we held a competition within the company to decide who would be the director. Three planners designed a game based on the idea of 'draw Bayonetta's childhood'. One of those designers was Tinari.

Tinari: At that time other than the little guidance from Kamiya there was also actually already a theme song for the game. I love strange games and while listening to the theme song I thought about the strange relationship between Cereza and Cheshire and I remember that I began to decide the specifics.

Kamiya: I actually had talked to Inaba before the project officially started and made a theme song. I thought if we had a song it would make various discussions easier.
Bayonetta Origins: Cereza and the Lost Demon is currently available on Switch.
---
Translation provided by Simon Griffin on behalf of Nintendo Everything.
Leave a Reply