Nintendo Direct live streams, live blog – February 17, 2021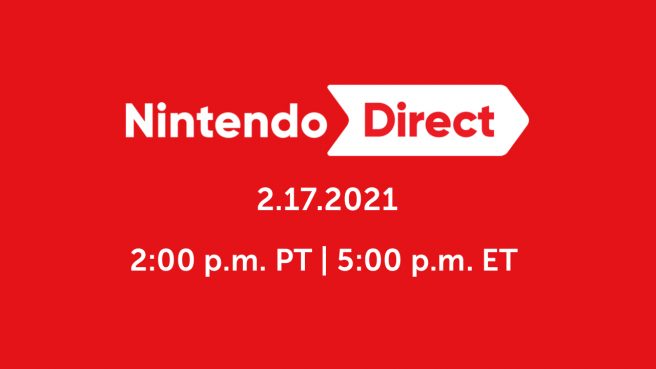 A new Nintendo Direct will be airing not too long from now – it'll be the first general presentation since September 2019. The fun begins at 2 PM PT / 5 PM ET / 10 PM in the UK / 11 PM in Europe.
We have the different streams for today's Nintendo Direct below, and we'll also have a live blog going manned by Ervin. Expect additional coverage on the main site during and after the presentation.
Live streams
Live blog
Super Smash Bros. Ultimate
-Pyra Blazes into Battle from Xenoblade Chronicles 2
-Mythra also joins, can swap with Pyra mid fight "2 in 1 ally"
-New Xenolade themed stage taking place on Titan Azurda's back
-Releasing in March
Fall Guys: Ultimate Knockout coming to Switch
-Set to release this Summer
Outer Wilds
-Coming to Switch this Summer
Famicom Detective Club: The Missing Heir and Famicom Detective Club: The Girl who Stands Behind
-Both titles coming to Switch on May 14, pre-orders available now
Samurai Warriors 5
-Coming to Switch this Summer
-Character designs and visuals "revamped"
Legend of Mana
-Coming to Switch June 24
-Rearranged music, can swap to original soundtrack
-New minigame
-Enemy encounters toggle
-Remastered visuals
Monster Hunter Rise
-New monsters revealed
-Themed Switch console and Pro controller will launch with the game on March 26
Mario Golf: Super Rush
-Coming June 25 to Switch, pre orders available now
-both button and motion control options
-several modes with new elements
-Speed Golf, everyone plays at the same time and runs after their own ball
-Story mode played as a Mii character
-Experience points and stat progression
-VS play
-New Multiplayer gameplay
Tales from the Borderlands
-Coming to Switch March 24
-Includes all 5 episodes
Capcom Arcade Stadium
-Available today on Switch
-1943 free
-Adjustable game speed
Stubbs the Zombie in Rebel Without a Pulse
-Coming March 16 to Switch
No More Heroes 3
-Coming to Switch August 27
-New and improved Death Glove
-Customizable skills
Neon White
-Coming to Switch this Winter
DC Super Hero Girls: Teen Power
-Coming to Switch June 4
Plants vs. Zombies Battle For Neighborville: Complete Edition
-Launching on Switch March 19, pre-order now
-Missions
-Boss Battles
-Online play "Head to Head multiplayer"
-Playing unlocks every character and skin
Miitopia
-Coming to Switch May 21, pre-orders open now
-Makeup feature
-Wig feature
-Relationships help in battles
Animal Crossing: New Horizons
-Update coming February 25, items buyable March 1
-Super Mario 35th anniversary furniture and items
-Includes ability to make 2 working Warp Pipes to travel across island
Project Triangle Strategy (working title)
-Coming to Switch 2022
-Demo available to download from the eShop today
-Feedback survey planned
-Tactical RPG
-Elevation based terrain combat, long range weapons do better at high elevation
-Flank system
-Coordinated attacks
-Attack links by changing battlefield terrain
-Choices and decisions establish "conviction", impacting story and allies
-"Scales of conviction" are voted outcomes that can be changed by learning more information
Star Wars: Hunters
-Coming to Switch 2021
-Competetive free to play game
Knockout City
-Coming to Switch this May
World's End Club
-Coming to Switch May 28
-Sidescrolling action game
Hades
-Physical release March 19
-Includes PC download code for the game's Soundtrack
-physical "compendium" showing character art and lore
Ninja Gaiden: Master Collection
-Coming to Switch June 10
-Includes Ninja Gaiden Sigma, Ninja Gaiden Sigma 2, and Ninja Gaiden 3
-All DLC, including costumes and gamemodes, included
Hyrule Warriors: Age of Calamity
-Expansion Pass
-Pre orders available now
-Includes Wave 1 and 2 DLC, as well as bonus
Bravely Default 2
-Preorder now
-Available February 22
Ghosts n' Goblins Ressurection
-Coming to Switch February 25, pre-orders open now
SaGa Frontier Remastered
-Coming to Switch April 15
Apex Legends
-Coming to Switch on March 9
-All new Legendary Pathfinder skin and 35 battle pass levels
-2x XP at launch on Switch
The Legend of Zelda: Skyward Sword HD
-Coming to Switch July 16, pre-orders available now on eShop
-Motion controls usable with Joy Con, right Joy Con is Sword, left is Shield, both used for some actions
-Button controls available, right control stick acts as the Sword
-Legend of Zelda themed Joy Con designed after Master Sword and Hylian Shield, coming July 16
Splatoon 3
-Coming 2022
-Little Buddy companion
Leave a Reply