[Nintendo Everything Podcast] – episode #102 – Release The Meat!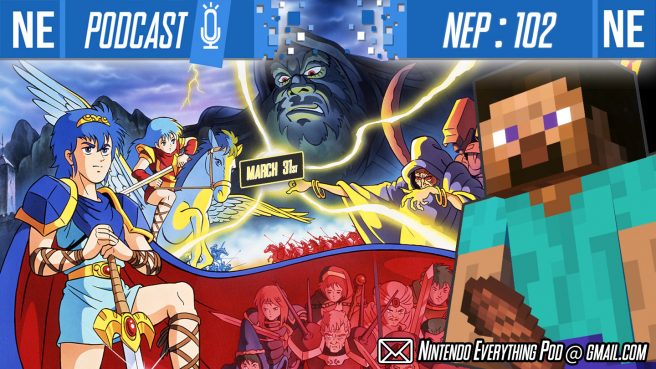 This week on Nintendo Everything Podcast, we're gonna party like it's 1990 because Fire Emblem: Shadow Dragon and the Blade of Light is getting an English release. Galen then tells us how much of a creativity vacuum he is in character creation with Baldur's Gate 3. We also explore: is early access good for consumers? Later, Oni Dino is not down for Prinny 2 at bedtime but is down for picross. There's also lots of news bits to talk about, culminating in Fire Emblem. But what's the deal with the limited availability? Another game to the pile. Is March 31st significant?
We've recently created a podcast discord for listeners to chill, chat, and make friends. Check out links and timestamps below and come hang out.
If you're enjoying NEP, please consider giving us a 5-star review on Apple Podcasts and share us with a friend. It's incredibly helpful in getting us exposed to new listeners through algorithms, so we would greatly appreciate your help. Thank you for listening to our Nintendo podcast!
Podcast Discord: http://tiny.cc/NintendoEverythingPod
Timestamps:
– 05:03 – Adventure Log: Baldur's Gate 3
– 23:19 – Adventure Log: Oni Dino's miscellany
– 29:13 – News: shorts (Pokemon, Drawn to Life, Joy-Con)
– 37:51 – News: Fire Emblem and limited releases
– 50:09 – Additional DLC
– 56:13 – Listener Mail: Spooky-scary myths, childhood game stories
Additional DLC:
– Comparing Ghost of Tsushima to Mini Ninjas for No Reason / Coffee Cakes
https://youtu.be/AXJ_gKk3onw
– The Golden Age of Horror Comics – Part 1 / In Praise of Shadows
https://youtu.be/pu6b5ZRAAfQ
– StEvE iS bAd (King of Skill)
https://youtu.be/SxVPaMon34k
Business inquiries and listener mail contact:
#nintendopodcast #gamingpodcast #podcast
YouTube
Apple Podcasts / iTunes: https://apple.co/2xLl0C5
Spotify: https://spoti.fi/2Gdgoch
Direct Download
PocketCasts: https://pca.st/IQVa
Stitcher: https://bit.ly/30uxOZR
PlayerFM: https://bit.ly/2yfCu9P
ListenNotes: https://bit.ly/2SINTbG
PodTail: https://bit.ly/2yfDgDL
Oni Dino's Twitter: @Oni_Dino
Oni Dino's Insta: Oni__Dino
Galen's Twitter: @mobius087
Galen's Insta: true_mobius
HUGE thank you to Headphones of Listening for NEP's intro music! Check him out on soundcloud!
Ending by Vector U
Leave a Reply