[Nintendo Everything Podcast] – episode #46 – We're Back! Tokyo Game Show from the show floor!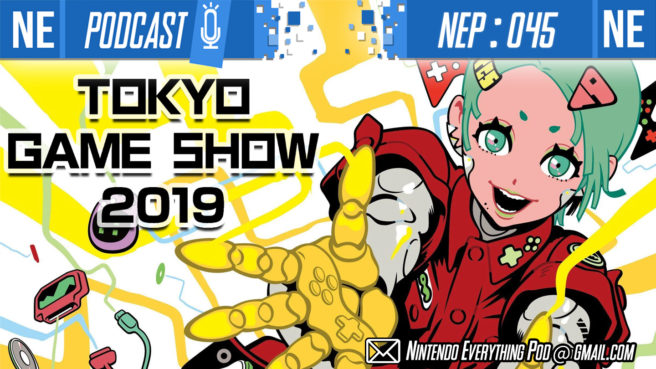 Hello, my Ring-con and leg straps! We are back from our break, and we're covering Tokyo Game Show and the Ring Fit Adventure in this week's episode of NEP. Check the episode out for some sneak peaks at what we were up to at TGS2019 and what content we've got coming in the near future on Nintendo Everything.
If you're enjoying NEP, please consider giving us a 5 star review on Apple Podcasts, aka new iTunes. It's incredibly helpful in getting us exposed to new listeners through algorithms, so we would greatly appreciate your help. Thank you for listening!
Timestamps
05:16 – Adventure Log: Japanese arcades and Yu-Gi-Oh! Plus some Japan travel adventures of Oni and Galen together and the allusive UFO Mukbang.
18:27 – News time! Tokyo Game Show wrap-up and Oni's adventures on the show floor and all around the city for events. Konami Talk: Contra. Dangen Entertainment. Koei Tecmo. NISA. Square Enix: Final Fantasy Crystal Chronicles. Bit Summit Road Show. Indie Booth officially supported by Nintendo, special shout-out to Hitcents' RPG "Shores Unknown", then Level-5 and Yo-kai Watch series talk.
1:12:31 – Ring Fit Adventure. Swole Playing Game!
1:20:56 – Sir Fetch'd saving our souls!
1:26:37 – Additional DLC – Galen only
1:29:05 – Emails galore! A big discussion of Japanese society and change, being LGBTQ+ in Japan, the social phenomenon of increasing life expectancy while the average birthrate is decreasing, and how this all ties into video games.
Send us an email and we'll discuss it!
[email protected]gmail.com
Listener Bonus: Help the show grow and support us by giving us ☆5 STAR☆ iTunes review! Thank you!
YouTube
Apple Podcasts / iTunes: https://apple.co/2xLl0C5
Spotify: https://spoti.fi/2Gdgoch
Direct Download
PocketCasts: https://pca.st/IQVa
Stitcher: https://bit.ly/30uxOZR
PlayerFM: https://bit.ly/2yfCu9P
ListenNotes: https://bit.ly/2SINTbG
PodTail: https://bit.ly/2yfDgDL
Oni Dino's YouTube "Gayme Married": https://bit.ly/2JK21xd
Oni Dino's Twitter: @Oni_Dino
Oni Dino's Insta: Oni__Dino
Galen's Twitter: @mobius087
Galen's Insta: true_mobius
HUGE thank you to Headphones of Listening for NEP's intro music! Check him out on soundcloud!
Leave a Reply