[Nintendo Everything Podcast] – episode #91 – Animal Crossing Fireworks, Dream Islands, and Cold Steel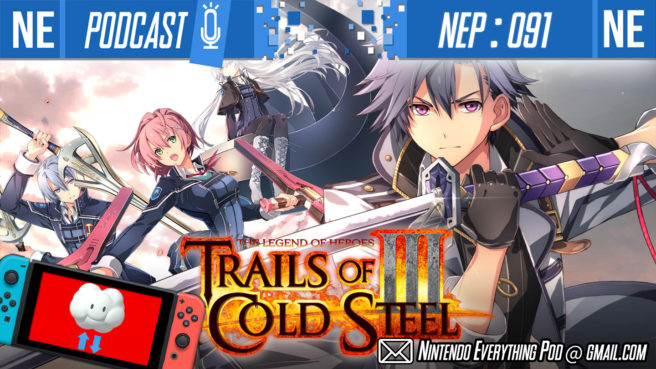 This week on Nintendo Everything Podcast, Galen takes some advice from a listener and checks out 3000th Duel, and Oni Dino jumps into the deep end with Trails of Cold Steel III. In the news, Galen breaks down the upcoming Animal Crossing: New Horizons updates, Nintendo cracks down on hacking, and more leaks take shape with beta elements. Finally, we discuss how Nintendo could benefit from cloud gaming in the future. Stadia was a big hit, right?
Check out links and timestamps below, and come hang out.
If you're enjoying NEP, please consider giving us a 5 star review on Apple Podcasts, and share us with a friend. It's incredibly helpful in getting us exposed to new listeners through algorithms, so we would greatly appreciate your help. Thank you for listening!
Timestamps:
– 06:41 – Adventure Log: Trails of Cold Steel III
– 24:52 – Adventure Log: 3000th Duel
– 39:43 – News Blast: Paper Mario's game-breaking glitch, Animal Crossing big news and fireworks, Nintendo leaks and cracking down on hacking
– 1:02:42 – Additional DLC & Listener Mail: Cloud gaming on Switch and the industry
Additional DLC:
– Umurangi Generation Official Soundtrack
https://open.spotify.com/album/02iIjzyhAlM7b5MlnuUdtb
– Food Theory
https://youtu.be/TxhrZBO4jY0
Business inquiries and listener mail contact:
#nintendopodcast #gamingpodcast #podcast
YouTube
Apple Podcasts / iTunes: https://apple.co/2xLl0C5
Spotify: https://spoti.fi/2Gdgoch
Direct Download
PocketCasts: https://pca.st/IQVa
Stitcher: https://bit.ly/30uxOZR
PlayerFM: https://bit.ly/2yfCu9P
ListenNotes: https://bit.ly/2SINTbG
PodTail: https://bit.ly/2yfDgDL
Oni Dino's YouTube "Gayme Married": https://bit.ly/2JK21xd
Oni Dino's Twitter: @Oni_Dino
Oni Dino's Insta: Oni__Dino
Galen's Twitter: @mobius087
Galen's Insta: true_mobius
HUGE thank you to Headphones of Listening for NEP's intro music! Check him out on soundcloud!
Ending song by I am Jemboy on YouTube!
Leave a Reply