Nintendo offering poster set featuring SNES games via My Nintendo in Europe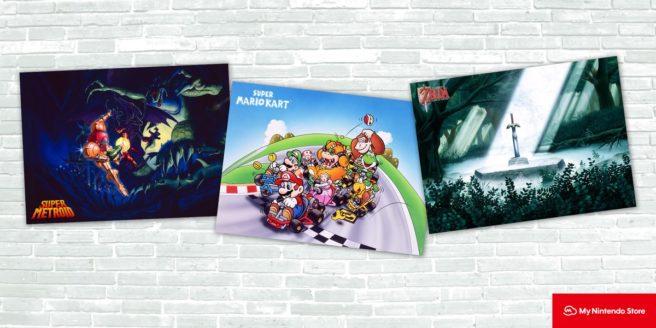 Today, Nintendo revealed a new reward that can be purchased via My Nintendo in Europe: a poster set containing three posters featuring classic Super Nintendo games: Super Mario Kart, Super Metroid and The Legend of Zelda: A Link to the Past. The set costs 300 Platinum Points; however, additional shipping costs apply. Shipping costs 3,99 EUR / 3,55 GBP / 4,45 CHF to Germany (since this is where Nintendo of Europe is located) and 6,99 EUR / 6,25 GBP / 7,80 CHF to the following countries:
Austria, Belgium, Bulgaria, Croatia, Cyprus, Czech Republic, Denmark, Estonia, Spain, Finland, France, Greece, Hungary, Ireland, Italy, Lithuania, Luxembourg, Latvia, Malta, the Netherlands, Norway, Poland, Portugal, Romania, Sweden, Switzerland, Slovenia, Slovakia, UK
The poster set is limited to one per customer. The offer is only available while supplies last. Note that you need a credit card in order to place the order, since this is the only payment option accepted by the My Nintendo online store in Europe. Got to this page to order the set.
Leave a Reply