Nintendo sheds some light on Midna's design and her helmet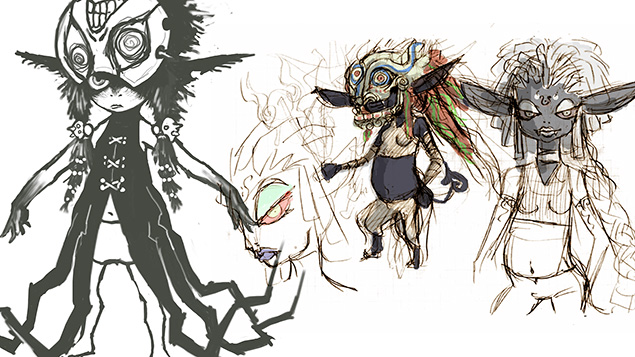 The next blog post from Nintendo counting down to the release of DLC Pack 1 for The Legend of Zelda: Breath of the Wild is live. This one dives into the design of Midna from Twilight Princess, since Midna's Helmet is one of the pieces of equipment included in DLC Pack 1.
Hello. I'm Takizawa, Art Director of The Legend of Zelda™: Breath of the Wild.

In DLC Pack 1: The Master Trials, players can find Midna's Helmet in one of the chests hidden in the world (this DLC is only available through the purchase of the Expansion Pass).

Midna appeared in the Legend of Zelda: Twilight Princess game for Wii and Nintendo GameCube, and she played an important role as Link's partner. On the Wolf Link amiibo figure (which was released alongside the Wii U remake of the game, The Legend of Zelda: Twilight Princess HD), she's perching on Wolf Link.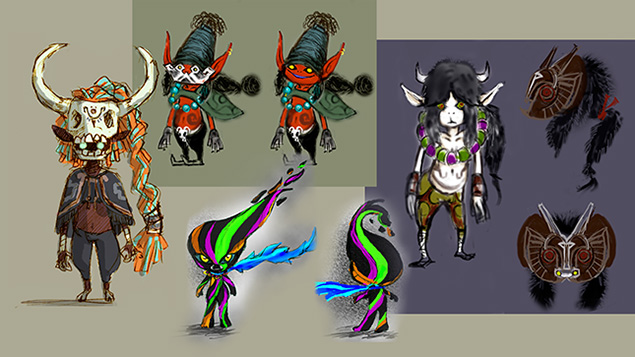 There was a secret project we were considering working on before The Legend of Zelda: Twilight Princess for Wii, and Midna inherited the character profile for the "goblin/devilkin" character that would have been featured in that project. Looking back at the development notes from that time, there are some descriptions left on the notes clearly reminiscent of Midna, including "the appearance looks like a monster or a child," "can't tell if she's enemy or ally," "can't really tell what she's thinking," "sometimes selfish, but sometimes cute and naïve." That's why initial design sketches for Midna looked a lot like this "goblin" character.

The actual Midna's Helmet was the physical manifestation of extremely powerful shadow magic passed onto the royal family of an alternate world, but when Link equips it in the Legend of Zelda: Breath of the Wild game, it will add "Guardian Resist Up" to Link's defense. This will give Link more armor options when facing Guardians, so I hope you will utilize it well. My recommendation is to use this Helmet while exploring the world with Wolf Link!

Tomorrow, Ms. Shirakawa who worked on the game design will passionately talk about the outfit of 35-year-old man who wanted to be a fairy.
Leave a Reply