Nintendo Switch Online adds second wave of Super Mario Odyssey icons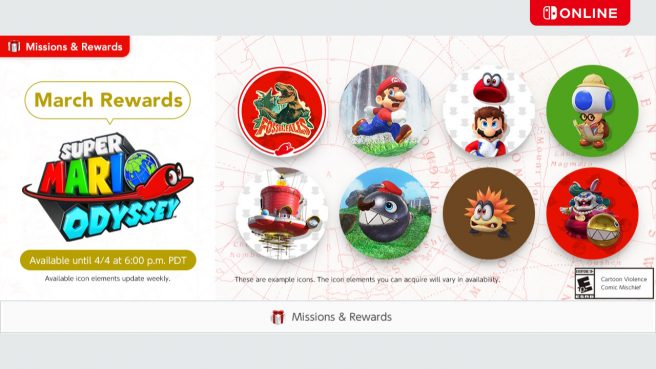 The selection of user icons has been updated on Nintendo Switch Online, adding a new set of designs based on Super Mario Odyssey.
Nintendo just made this feature available last week. My Nintendo members can spend points on various icons, with the Super Mario Odyssey set comprised of characters, enemies, backgrounds, and frames. Icons currently cost either 5 or 10 Platinum Points.
Super Mario Odyssey is the featured title for March, with icons from the game being available until April 4 at 6 PM PT / 9 PM ET. Until then, over the next few weeks, Nintendo will be swapping out the selection of designs for this title every Monday at the same time.
As previously mentioned, icons for Animal Crossing are also available. Users will find designs for residents with March birthdays until April 4. Nintendo says that different icon elements will be available each month based on residents who have birthdays during that month.
Keep in mind that the icons feature is exclusive to the Nintendo Switch Online service. You'll need to be a member in order to claim any of these icons and use them.
Have you tried out the new icons functionality for Nintendo Switch Online yet? Let us know in the comments below.
Leave a Reply