Outlast 1 and 2 announced for Q1 2018 Switch release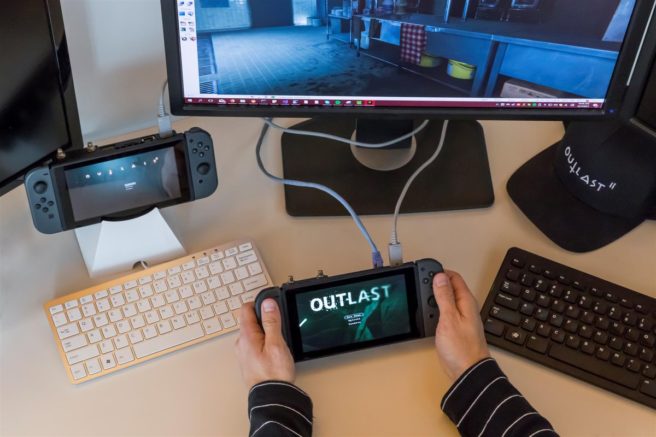 The horror franchise Outlast is on its way to Switch, Red Barrels has announced. The two games are set for release sometime in Q1 2018.
Today's news comes as part of a larger status update from Red Barrels. The company has ruled out DLC for Outlast 2, and has teased something else in development in the Outlast franchise.
Here's the full update:
It's time for a little status update from us.

First off, we wanted to take a moment to thank all of you that have bought Outlast 2 and have been supporting the studio for more than 5 years now. Red Barrels was nothing more than a dream, but with a lot of blood, sweat and beers it has now become a small, fully independent studio with a kickass team who can work miracles.

We strive to create unique experiences and take risks. Hopefully, we'll manage to entertain you for years to come.
About the future, many of you have been requesting a DLC. While the first Outlast was made with the idea of a DLC in mind, that was not the case for Outlast 2. We've considered many options, but none of them felt appropriate for a DLC. Outlast 2 was created to make you feel like a rat in a maze, without any knowledge of what's outside the maze.
We will, at some point, make an Outlast 3 and answers will be given. You can also check out The Murkoff Account's epilogue. It takes places right after the events of the second game and offers some insight into the events in the game. (https://redbarrelsgames.com/comic-books/)

Currently we're working on something a lot of you have been asking for… It won't be a sequel to Outlast or Outlast 2, but it will be a distinct experience set in the Outlast universe. We can't say more right now, we first need to make sure we can make it work. Like I mentioned, we strive to be risk-takers and this one is a pretty big challenge. If all goes well, we'll soon be able to reveal more.

In the meantime, the Outlast franchise will be released on the Nintendo Switch during the first quarter of 2018.
We have more on the two Outlast games below for those who haven't heard of them previously.
Outlast
Hell is an experiment you can't survive in Outlast, a first-person survival horror game developed by veterans of some of the biggest game franchises in history. As investigative journalist Miles Upshur, explore Mount Massive Asylum and try to survive long enough to discover its terrible secret… if you dare.

Synopsis:

In the remote mountains of Colorado, horrors wait inside Mount Massive Asylum. A long-abandoned home for the mentally ill, recently re-opened by the "research and charity" branch of the transnational Murkoff Corporation, the asylum has been operating in strict secrecy… until now.

Acting on a tip from an anonymous source, independent journalist Miles Upshur breaks into the facility, and what he discovers walks a terrifying line between science and religion, nature and something else entirely. Once inside, his only hope of escape lies with the terrible truth at the heart of Mount Massive.

Outlast is a true survival horror experience which aims to show that the most terrifying monsters of all come from the human mind.

Features:

True Survival Horror Experience: You are no fighter – if you want to survive the horrors of the asylum, your only chance is to run… or hide
Immersive Graphics: AAA-quality graphics give players a detailed, terrifying world to explore
Hide and Sneak: Stealth-based gameplay, with parkour-inspired platforming elements
Unpredictable Enemies: Players cannot know when – and from where – one of the asylum's terrifying inhabitants will finally catch up to them
Real Horror: Outlast's setting and characters are inspired by real asylums and cases of criminal insanity
Outlast 2
Outlast 2 is the sequel to the acclaimed survival horror game Outlast. Set in the same universe as the first game, but with different characters and a different setting, Outlast 2 is a twisted new journey into the depths of the human mind and its dark secrets.

Outlast 2 introduces you to Sullivan Knoth and his followers, who left our wicked world behind to give birth to Temple Gate, a town, deep in the wilderness and hidden from civilization. Knoth and his flock are preparing for the tribulations of the end of times and you're right in the thick of it.

You are Blake Langermann, a cameraman working with your wife, Lynn. The two of you are investigative journalists willing to take risks and dig deep to uncover the stories no one else will dare touch.

You're following a trail of clues that started with the seemingly impossible murder of a pregnant woman known only as Jane Doe.
The investigation has lead you miles into the Arizona desert, to a darkness so deep that no one could shed light upon it, and a corruption so profound that going mad may be the only sane thing to do.
Leave a Reply