Paladins Switch technical analysis and Xbox One X comparison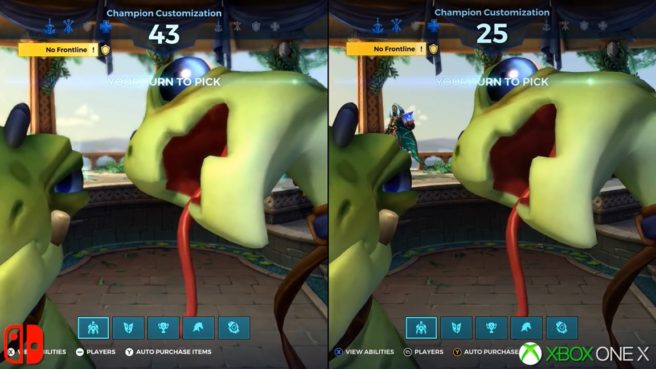 Digital Foundry has put the new Switch version of Paladins to the test. What we learn is that, ultimately, Hi-ReZ Studios has done a great job with the port from a technical perspective.
Paladins manages to hit a mostly smooth 60 FPS on Switch. Despite a few small hiccups here and there, you're getting a consistent frame rate for the most part.
When docked, Paladins runs at a 1600×900 dynamic resolution. That number can drop as low as 1008×567. There's a 720p dynamic resolution in portable mode, but can lower to 672×378.
Compared to the Xbox One X version, some changes were made with visual quality. Texture quality is mostly the same with characters, but environments take a hit. There is also weaker texture filtering and more aggressive texture flickering. Light shafts are gone on Switch, and shadow maps are less pronounced. The same also goes for ambient occlusion. Overall though, the Switch version is a faithful port that keeps the gameplay in tact, and thanks to its art style, the changes aren't immediately noticeable.
Here's the full analysis from Digital Foundry:
Leave a Reply