Persona 5 Tactica, Fire Emblem GBA, Ace Attorney 4-6 Remasters and more! | Nintendo Everything Refresh Ep. 057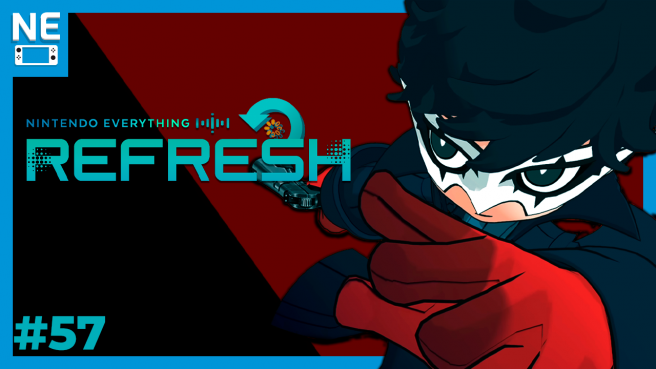 In this week's episode of Nintendo Everything Refresh (which, fun disclosure, was recorded BEFORE that killer Nintendo Direct!), join your hosts Nick and Tom as they discuss some exciting Switch-bound games announced last week, including of Persona 5 Tactica, the Apollo Justice: Ace Attorney Trilogy (which contains HD remasters of Ace Attorney 4-6), and much more. We'll also discuss the upcoming Switch Online release of Fire Emblem: The Blazing Blade, and why this might be a great entry point into the series for new fans. Stick around for chatter about some creative recent releases, including Dordogne, ProtoCorgi and much more!
Our podcast is ⁠⁠available⁠⁠ on most major streaming platforms, including ⁠⁠Spotify⁠⁠, ⁠⁠Apple Podcasts⁠⁠, ⁠⁠Google Podcasts⁠⁠, ⁠⁠Amazon Music⁠⁠ and ⁠⁠Audible⁠⁠, or you can check out the video version on ⁠⁠YouTube⁠⁠. Direct downloads are also available for free through our friends at ⁠⁠⁠ListenNotes⁠⁠⁠.
Have ideas or suggestions for the show, or want to submit a fan question or topic for a future episode? Let us know what you think – and thanks for listening!
➡ Inquiries/Fan Mail: [email protected]➡ Visit the site: ⁠⁠https://nintendoeverything.com⁠⁠
Episode Segments:
(00:00) | Intro
(01:36) | Headlines
(50:06) | Release dates
(57.41) | Recent releases
(01:17:06) | Refresh Rate
Hosts:
Nick Serpa: @ndserpa
Tom Chaplin @Thomchaplin
Dennis Gagliardotto: @LyonHart_
Luiz Estrella: @Luizestrella_
Leave a Reply