Pinball FX3 on Switch to receive Indiana Jones: The Pinball Adventure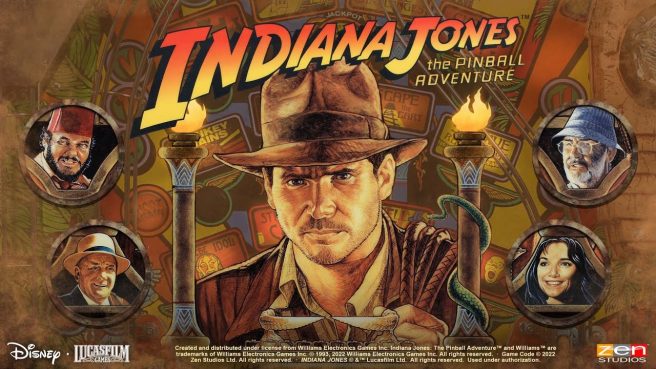 Zen Studios announced today that in partnership with Lucasfilm Studios, it's working on a remastered edition of the classic Indiana Jones: The Pinball Adventure pinball table for Pinball FX3. Switch will be getting the premium DLC in 2022.
Zen Studios says the DLC "faithfully recreates one of the best Williams machines for the modern age in precise detail." It comes with the original music, sounds, rules, and look of the machine brought to the digital space for the first time. The DLC also offers "true-to-life Pro Physics simulation, carefully developed by the pinball experts at Zen, using super slow-motion footage to capture flipper, rubber and ball movements to better understand and recreate pinball mechanics." All of the regular features are here, including single-player, local multiplayer, challenge, and tournament modes. Additionally, an "Enhanced" version offers 3D effects, including side wall art, ball trailer effects, particle effects and a whip-wielding Indiana Jones.
Here's a trailer for the Indiana Jones: The Pinball Adventure DLC in Pinball FX3:
Pinball FX3 is currently available on Switch through the eShop, and the Indiana Jones: The Pinball Adventure DLC will follow in 2022. We'll pass along a final release date for the upcoming content as soon as we have it.
Leave a Reply