Update: £1.5 million on Kickstarter, orchestral soundtrack – Playtonic unveils first support character for Yooka-Laylee, Trowzer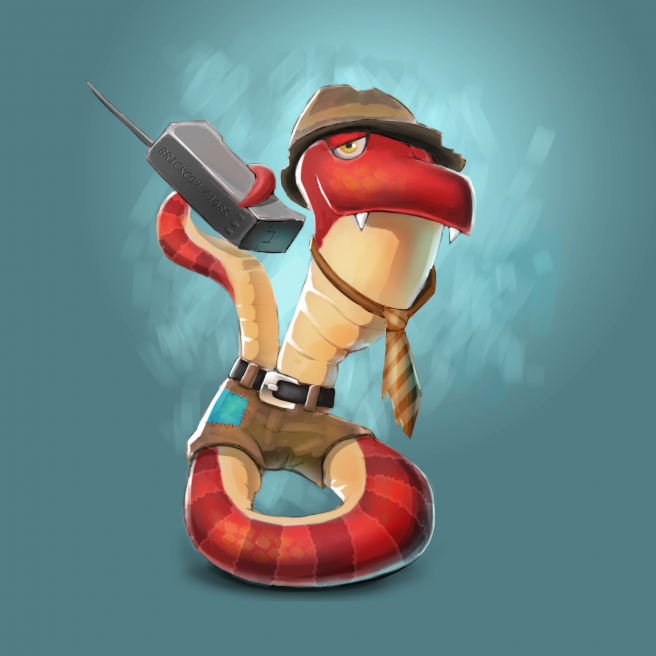 Update: Yooka-Laylee has now reached £1.5 million on Kickstarter, which means that the game will be receiving an orchestral soundtrack (thanks Maxime).
£1.5 Million! #YookaLaylee will have an orchestral soundtrack @David_Wise @grantkirkhope @SteveBurkeMusic https://t.co/99Z6m4pVjO

— Playtonic (@PlaytonicGames) May 11, 2015
---
Playtonic shared a first look today at one of Yooka-Laylee's support characters. It's none other than Trowzer, who is pictured above.
Playtonic posted the following description of the character on its website:
Trowzer is a business-snake whose career never took off. Not that he knows it – the smug, serpent salesman thinks he's the bee's knees (not that he has knees), and for a little dosh he'll teach you some of the slick moves he picked up on the high-stakes sales floor.
Yooka-Laylee's creative lead, Gavin Price, shared the following about Trowzer:
Trowzer thinks of himself as the best salesman ever, but with his downbeat appearance and 1980's mobile phone, life never took off for him. He'll take your money and count it (he's an Adder…) and because he knows best he'll even demonstrate the moves you just bought for you to replicate… if you can follow his jiggling.
Character artist Steve Mayles added:
I didn't want him to be a snake in the traditional sense, and when Gav suggested he should have shorts on (do I have to add shorts to all of my characters?!), a great idea for this was his body could curl back up through the other leg hole. So he'll move with a certain springiness, which will be fun to animate.
We've now seen three core characters from Yooka-Laylee. Along with Trowzer, players will take control of both Yooka and Laylee. You can read up on their naming origins here.
Leave a Reply