Pokemon GO details March 2022 Community Day, Season of Alola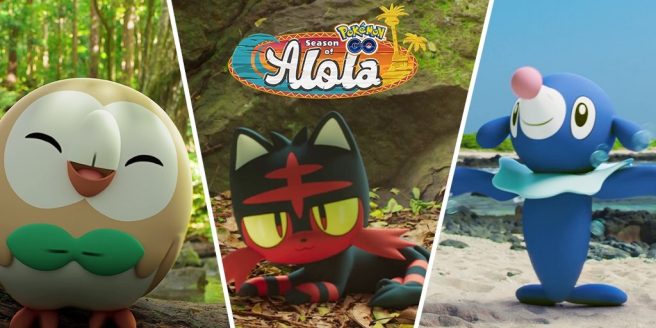 Niantic has passed along a ton of details about what's planned for the immediate future of Pokemon GO, including the March 2022 Community Day and Season of Alola.
For the Community Day, this will be held on March 13. Sandshrew and Alolan Sandshrew will be featured, and various events and bonuses are planned.
Season of Alola kicks off on March 1. Various Pokemon from the Sun and Moon era will be debuting, including Rowlet, Dartrix, Decidueye, Litten, Torracat, Incineroar, Popplio, Brionne, Primarina, Pikipek, Trumbeak, Toucannon, Yungoos, Gumshoos, and Rockruff.
Below are the full details on Pokemon GO's March 2022 Community Day and Season of Alola
New Pokémon from Pokémon Sun and Pokémon Moon's Alola Region

Trainers can look forward to new Pokémon originally found in the Alola region from Pokémon Sun and Pokémon Moon, as well as new events and bonuses to celebrate the new Season, including:

The Season of Alola will begin on March 1, 2022 at 10:00 a.m. local time and will have Pokémon originally found in the Alola region appearing in the game, including:
Rowlet, Dartrix, Decidueye, Litten, Torracat, Incineroar, Popplio, Brionne, Primarina
Pikipek, Trumbeak, Toucannon, Yungoos, Gumshoos, Rockruff
Midday Form Lycanroc, Midnight Form Lycanroc, Comfey* (*only available in Hawaii)
Jangmo-o, Hakamo-o, Kommo-o, Tapu Koko
March Community Day on Sunday, March 13, 2022 will feature both Sandshrew and Alolan Sandrew (details below)
Upcoming events include: Welcome to Alola (March 1 – 9) (details below), Festival of Colors (March 16 – 20), Lush Jungle (March 22 – 29) and the new GO Battle League: The Interlude Season (March 1 – June 2) (details below)
This season, Trainers will see new visual updates for Gyms and PokéStops, depending on whether Trainers are within 40m, 80m, or out of range of the location. This change is purely visual in nature and will not impact gameplay.

Welcome to Alola Event

The first event of the new Season – Welcome to Alola – will take place from Tuesday, March 1, 2022, at 10:00 a.m. to Wednesday, March 9, 2022, at 8:00 p.m. local time. Trainers can enjoy the following events and bonuses:

The following Pokémon will appear more frequently in the wild:
Rowlet, Litten, Popplio, Pikipek and Yungoos
Collect the following Pokémon to complete Tropical Collection Challengeand earn 7,000 XP, 15 Ultra Balls:
Rowlet, Litten, Popplio, Pikipek, Yungoos, Gumshoos
Trainers can encounter the following Pokémon in Raids and Mega Raids:
One-Star: Bellsprout, Snubbull, Phanpy, Electrike, Rockruff
Three-Star: Alolan Raichu, Nidoqueen, Wigglytuff, Alolan Graveler
Five-Star: Tapu Koko
Mega: Mega Venusaur
Trainers who complete Field Research Tasks have a chance to encounter the following:
Pikipek and Yungoos

March Community Day

The next Community Day will be taking place on Sunday, March 13, 2022 from 11:00 a.m. to 5:00 p.m. local time, featuring Sandshrew and Alolan Sandshrew. Trainers who participate can enjoy fun events and bonuses, including:

Event Bonuses
¼ Egg Hatch Distance when Eggs are placed in Incubator during event period
3 hr Incense Duration
3 hr Lure Module Duration
A Community Day Box with 30 Ultra Balls, 3 Super Incubators, 4 Lucky Eggs, 1 Elite Charged TM will be available in the in-game shop for 1,280 PokéCoin
A free bundle with 30 Ultra Balls will be available in the shop
Event-themed stickers from PokéStops, Gifts and the in-game shop
Take a few snapshots for a surprise
Exclusive Attacks
Sandslash evolved from Sandshrew during the event or up to two hours afterwards will know Night Slash
Alolan Sandslash evolved from Alolan Sandshrew during the event or up to two hours afterwards will know Shadow Slash
Trainers can access the Community Day Special Research Story: Gritty and Glacial by purchasing tickets for $1.00 (USD) (or equivalent pricing tier in local currency)

GO Battle League: The Interlude Season

With the new Season of Alola also comes the next GO Battle League: The Interlude Season that will take place from Tuesday, March 1, 2022 at 1:00 p.m. PST (GMT -8) to Wednesday, June 1, 2022 at 1:00 p.m. PDT (GMT -7).

As usual, Trainers' GO Battle League rank will reset and end-of-season rewards will be available to be collected. Rank-up requirements will remain the same as in Season 10 and rankings will cap at rank 20.

The Interlude Season Schedule

(*3× Stardust from win rewards, excluding end of set rewards)

March 1 – 8: Great League / Johto Cup
March 8 – 15: Ultra League / Ultra Premier Classic
March 15 – 22: Master League* / Love Cup*
March 22 – 29: Great League / Little Jungle Cup
March 29 – April 5: Ultra League / Catch Cup
April 5 – 12: Master League* / Halloween Cup*
April 12 – 19: Great League / Little Cup
April 19 – 26: Ultra League / Retro Cup
April 26 – May 3: Master League* / Kanto Cup*
May 3 – 10: Great League / Flying Cup
May 10 – 17: Ultra League / Element Cup
May 17 – 24: Master League* / Master Premier Classic*
May 24 – June: 1: Great League / Ultra League / Master League

GO Battle Days

Sunday, March 5: Seel
Sunday, April 17: Beginner's Paradise
Sunday, May 29: Mega Stardust Surprise
Source: Niantic PR
Leave a Reply