Pokemon Masters EX – Midnight Spookfest story event and Morty seasonal scout live now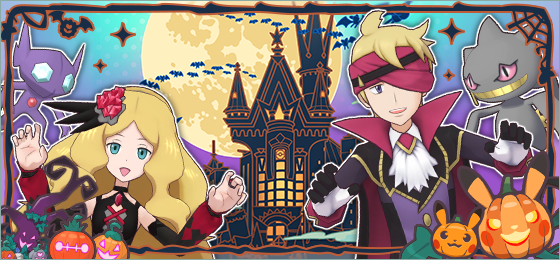 Some new Halloween-themed content has gone live in Pokemon Masters EX – including a new story event and a seasonal scout. The story event is called Midnight Spookfest and it has players join Caitlin and Morty as they dress up for a night of thrills.
There are special battles to complete that will reward mini Pika-Lanterns and big Pika-Lanterns in addition to event medals that can be earned by fulfilling special requirements. Both of these can be traded for valuable items by using the Exchange Items menu.
The seasonal scout features the sync pair of Morty (Fall 2021) and Banette. This sync pair can now have its sync grid expanded and raised to six star EX. There are also bonuses for back to back scouting that can be seen below as well as more details about the story event. Both of these events will be live until November 4, 2021 at 10:59pm PT.

You will receive the following items as presents with each Sync Pair Scout ×11 during the Morty Seasonal Scout!

1 Time
Tech Move Candy Coin ×1
2 Times
Tech Move Candy Coin ×1
3 Times
Tech Move Candy Coin ×1

Lineup Bonuses for Midnight Spookfest
You can earn bonus rewards if you have specific Sync Pairs in your lineup for battles in this event.
The more of these sync pairs you place in your lineup, the more rewards you will obtain!

Applicable Sync Pairs
Morty (Fall 2021) & Banette:
Mini Pika-Lantern and Big Pika-Lantern ×1.6!
Caitlin (Fall 2021) & Sableye:
Mini Pika-Lantern and Big Pika-Lantern ×1.6!
Acerola (Fall 2020) & Mimikyu:
Mini Pika-Lantern and Big Pika-Lantern ×1.4!
Hilbert (Fall 2020) & Mightyena:
Mini Pika-Lantern and Big Pika-Lantern ×1.4!
Acerola & Palossand:
Mini Pika-Lantern and Big Pika-Lantern ×1.2!
Nanu & Persian:
Mini Pika-Lantern and Big Pika-Lantern ×1.2!
Player Character & Pikachu:
Mini Pika-Lantern and Big Pika-Lantern ×1.2!
Player Character & Torchic:
Mini Pika-Lantern and Big Pika-Lantern ×1.2!
The lineup bonus is ×1 by default and varies according to which sync pairs are on the team.
Example 1: If you place a ×1.6 and a ×1.2 Sync Pair on your team, you will receive ×1.8 the number of Mini Pika-Lanterns and Big Pika-Lanterns.
Example 2: If you place a ×1.6 and a ×1.4 Sync Pair on your team, you will receive ×2.0 the number of Mini Pika-Lanterns and Big Pika-Lanterns.
Note: Acerola (Fall 2020) & Mimikyu and Acerola & Palossand cannot be in your lineup at the same time.
Note: Sync Pairs with Pokémon that were hatched from Eggs are not applicable for lineup bonuses.

Event Missions
You can take on special missions during the event period.
Check the Missions screen to learn more!

Note: You will receive a special story when you complete the designated Mission.
Note: You can earn Mission completion rewards for completing the Missions the designated number of times.

Event Medals
Event medals are awarded for meeting certain conditions in event missions.
You can try to obtain all of the event medals!

Earn Area Info at Random!
When you complete the areas below, there's a chance that you'll obtain this event's special Area Info, Bountiful Bonus Battle 1.

Challenge Pasio's Trainers: Part 1
Challenge Pasio's Trainers: Part 2
Challenge Pasio's Trainers: Part 3
Challenge Pasio's Trainers: Part 4
Daily Extreme Battle 1
You can collect Mini Pika-Lanterns and Big Pika-Lanterns more efficiently from this special area, so take on the challenge once you get it!

Log-In Bonus Under Way!
A log-in bonus for Midnight Spookfest is currently under way to mark the start of the event.
Log-In Bonus Details
Day 1: Skip Ticket ×20
Day 2: Gems ×100
Day 3: Gems ×100
Day 4: Gems ×100
Day 5: Skip Ticket ×20
Day 6: Gems ×100
Day 7: Gems ×100
Day 8: Gems ×100
Day 9: Skip Ticket ×20
Day 10: Gems ×100
Day 11: Gems ×100
Day 12: Gems ×100
Day 13: Gems ×100
Day 14: Skip Ticket ×20
Leave a Reply